Vol. 2, Issue 7 | August 2017
In this issue:
Join us for happy hour and a movie under the stars
Former ethics official urges journalists to show the big picture
In memoriam
SPJ-DC revives Foreign Press Liaison Committee
Job opportunities
First Amendment T-shirts
Help lead your chapter. Run for a seat on SPJ-DC's board of directors
National Press Club accepting applications for book fair
Membership milestones
Board contact information
Deadline to submit copy for September issue
Follow us on Facebook and Twitter
Join us for happy hour and a movie under the stars
We hope you will join us at two upcoming events.
On August 16 at 8 p.m., the chapter will join a visiting delegation of journalists from Germany for a happy hour and meet-and-greet at Jack Rose Dining Saloon in D.C.'s Adams Morgan neighborhood.
On August 30, the chapter will join the Journalism and Women Symposium (JAWS) for a picnic and free outdoor screening of the classic film "All The President's Men." Bring food or drink to share, and a blanket if you are able. There will also be food and drinks for sale.
Location: Storey Park in D.C. (1005 First St., NE)
Metro: NoMa/Gallaudet Metro or Union Station
Time: The site opens at 7 p.m.
Film Begins: Sunset (8:45-ish)
These events are far from our only gatherings this summer, though.
In June, we inducted three honored guests into our Hall of Fame and recognized many local professional and student journalists for their work. ABC News Chief Global Affairs Correspondent Martha Raddatz, Washington Post columnist Gene Weingarten and RealClearPolitics White House correspondent Alexis Simendinger all gave entertaining and thoughtful speeches.
In July, the chapter hosted a free workshop on how to effectively FOIA the federal government, in collaboration with the transparency group MuckRock. It was a packed house, and we may bring the event back by popular demand in the fall.
Also in July, longtime member Bill McCloskey organized a night for SPJ-DC at Nationals Park, where SPJ members and their friends and families raised $315.00 dollars for SDX-DC, which supports scholarships for journalism students.
–Alice Ollstein
Former ethics official urges journalists to show the big picture
Walter Shaub, who recently resigned after four years of directing the federal Office of Government Ethics and now works for the advocacy group Campaign Legal Center as senior director of ethics, told journalists at a news conference July 28 at the National Press Club that, in reporting on government ethics violations, they should also report on how the violations fit into a larger picture of divergence from societal norms.
The United States has been getting a "shock to the system" under the Trump administration, he said, and this type of behavior could become the norm. He had spoken about some presidential "conflicts of interest," for example, saying it is "inexplicable" that the current president flies around to his properties – which provides free advertising, because the media cover his trips – meeting foreign dignitaries there. Not having the president's tax returns made public also is a departure from societal norms, he said. Previous presidents have, for instance, provided tax returns and cleared up quickly any questions pertaining to the Emoluments Clause.
An Ethics Office is "only effective if you have an administration that sends the message that ethics matter and have a value," he said. And the problem of effectiveness in the current administration "is not confined to the ethics program," he said: "You have a president publicly criticizing law enforcement" in some cities. And when you have [now former] White House Communications Director Anthony Scaramucci "outraged that someone 'leaked' who was at a dinner with the president of the United States, that's clearly outrageous." Yet the effect is that this type of behavior is becoming normalized in our society, he said.
Shaub said "it is difficult to turn back after this stuff is normalized," stressing that journalists could help by finding ways to "talk about the issues that are not partisan," to communicate with the public and educate them about the role of ethics watchdogs in a democracy, especially since our society is "hyper-polarized" today. "Sunlight is the best disinfectant," he said, and the public should have access to financial disclosure forms of government employees so they can study the information for themselves. OGE has an option of talking to the public about government ethics and to highlight its functions, but its mission and existence may be "fragile" at this juncture, he said.
Shaub said he will be working with various groups in his new role to "see if we can find areas of commonalities" in promoting government ethics.
During a different Press Club event on Aug. 4, "Can We Talk? Public Access, Security and Civility in a Hyper-Partisan Age," Carol Lukensmeyer, executive director of the National Institute of Civil Discourse, remarked that "we seem to be normalizing reality television," in terms of the way media are covering the current administration. Also on that panel, former Clinton administration Press Secretary Mike McCurry said the "belligerency [toward the media] of this presidency is unprecedented . . . unjustified." He said every president gets frustrated with the media, and that he's never seen the mainstream media before seem to make the judgment that the sitting president is not qualified to be in office.
Lukensmeyer praised Sen. Orrin Hatch for his recent opinion piece on a return to civility on Capitol Hill, saying it was a reaffirmation that civility is essential to democracy. And since a democracy is participatory and involves the public interacting with the media and the government the media covers, the issue of trust is crucial – the public trust in the media is not high, and that lack of trust extends to whether the media is covering issues that matter to the public, not just topics the media wants to cover.
See the video of the second panel on C-SPAN, and hear (about an hour into the discussion) the mention of the SPJ-DC Pro Chapter's efforts on "Censorship by PIO."
— Amy Fickling
In Memoriam
We are sad to report the passing of three members our Hall of Fame.

Left to right: Don Larrabee (right side of left photo), David Hess and Jim Vance (Photo credits: Larrabee and Hess photos by Noel St. John; Jim Vance photo provided by Matt Glassman of NBC4.)
Don Larrabee died July 18. He served as president of the National Press Club in 1973. He was also a founding member of the National Press Foundation. He was 93.
David Hess died July 19. He was a Capitol Hill reporter and served as president of the National Press Club in 1985. He was 83.
Jim Vance died July 22 from cancer. Vance was a beloved part of Washington's broadcast news community. He was 75.
–Compiled from washingtonpost.com and press.org by Elizabeth Grisham
Chapter revives  Foreign Press Liaison Committee
Recognizing a desire to try and work more closely with the large number of foreign journalists based in the Washington area, the SPJ-DC board this summer restarted its Foreign Press Liaison Committee.  We also hope to work with visiting journalists, as well.
The State Department's Foreign Center, located in the National Press Building, notes that there are more than 1,000 who hold credentials.  The goal is to see how we can work together on some shared goals and facilitate some professional exchanges for visiting journalists.
In August 2016, the chapter arranged a briefing of 20 Chinese journalists from Shanghai. It was hosted by ThinkProgress (where Alice Ollstein, the current chapter vice president, then worked). The firm also provided a buffet lunch. There was a lively Q&A session on a wide range of media topics.
On May 1, 2017, Ana Pinilla, a bilingual SPJ chapter member, joined then-chapter president Kathleen Burns, to arrange a briefing of a top Spanish visiting  journalist. It was requested by the State Dept. for its Journalism Laboratories program and arranged through State's Office of International Visitors. The session was for Jose Maria Suarez De Lezo Herreros De Tejada of Madrid. He heads his country's Journalism Foundation and is also the digital department manager for the Spanish Online Communications Media Association.  He is also a lawyer and has held positions in the Ministries of Immigration, Economy and Technology, and Education.
On May 2, several SPJ-DC chapter board members attended the World Press Freedom Day at the National Press Club. The speakers represented more than 20 national and international top media organizations. National and local SPJ members were both involved. The committee will also work with these groups to help visiting journalists meet Washington counterparts.
For this committee, the chapter would look to recruit local SPJ journalists who might be willing to volunteer to occasionally provide similar briefings, when requested by the State Department to do so. These visiting journalists are eager to tour media facilities and to meet with counterparts in digital, print, broadcast, cable, magazine and newsletter media.  If you can volunteer a bit of your time and expertise, please contact panel chair, Ana Pinilla, at apinilla0829@gmail.com.
Foreign Press Liaison committee member bios
Ana Pinilla, chairperson, apinilla0829@gmail.com
Ana Pinilla  is a Media Relations Specialist at BusinessWire in Washington, D.C. with a background in print and broadcast journalism. She graduated from Purdue University with a double major in political science and communications. The company, founded in 1961, has 29 worldwide offices, including here in Washington. On a daily basis, Ana is exposed to the public relations world and works closely with editors and reporters by providing content leads that could match their beat. Ana is bilingual.
Ariel Moutsatsos is D.C. bureau chief for Televisa News, a television network based in Mexico. It is a leading media company in the Spanish-speaking world, an important cable operator in Mexico and an operator of a leading direct-to-home satellite pay television system in Mexico. Prior to this job, Moutsatsos was a diplomat at the Mexican Embassy offices for the United Kingdom and Northern Ireland, and in Washington. He is also a member of the National Press Club and the Foreign Press Center. He speaks four languages and holds an M.A. in International Relations from the Universidad Complutense de Madrid and a B.A. in Communications from the Instituto Tecnológico y de Estudios Superiores de Monterrey.
Warren L. Nelson is an English editor for the international Iran Times, an independent weekly distributed in the United States, Canada, Europe, the Middle East and the Far East. Nelson is a journalist who once covered the Pentagon for United Press International. He also spent 20 years working for the House of Representatives, chiefly for the Armed Services Committee.
Steven Roy Goodman is an international educational consultant and host of the cable TV show, "Higher Education Today," which connects viewers to contemporary issues in the university world. Goodman has taped 120 segments over the past six years. Topics have ranged from student athletes to neuroscience, from curriculum changes to motivation and rewards, and from disability services to the value of the liberal arts. His op-eds have been published in The Washington Post, the Philadelphia Inquirer, and the Miami Herald. He is a former senior fellow at the UCLA Luskin School of Public Affairs and co-author of "College Admissions Together: It Takes a Family."
Job opportunities
Center for Public Integrity is seeking a data editor to help investigate power with data and oversee a muscular data team that builds upon the Center's historic leadership in data-based journalism. The data editor will oversee data collection and analysis for a variety of Center projects, among them investigations dealing with money and politics, climate change, economic inequality, state government, broadband and technology, and national security. This position reports directly to the executive editor. He or she will also work closely and collaboratively with the Center's managing editors. The ideal candidate will understand and embrace the goals of a digital news environment, social media and multimedia. The data editor will additionally build and oversee partnerships with other news outlets for reporting and publication of data across platforms, and facilitate outreach plans around data associated with the Center's work.
For full details on qualifications and application requirements, see: https://www.publicintegrity.org/about/our-organization/work-here
DEADLINE TO APPLY: August 20, 2017
Center for Responsive Politics is seeking a director of digital strategy and engagement. For full details, see: https://www.opensecrets.org/about/jobs.php#digital-strategy
Wearing the five freedoms
If you're reading this, we know you value the First Amendment.
How would you like it on your back? Of course you would.
Here's how.
SPJ has awesome new First Amendment T-shirts. They're white with black letters, with blue to emphasize the five freedoms in the First Amendment.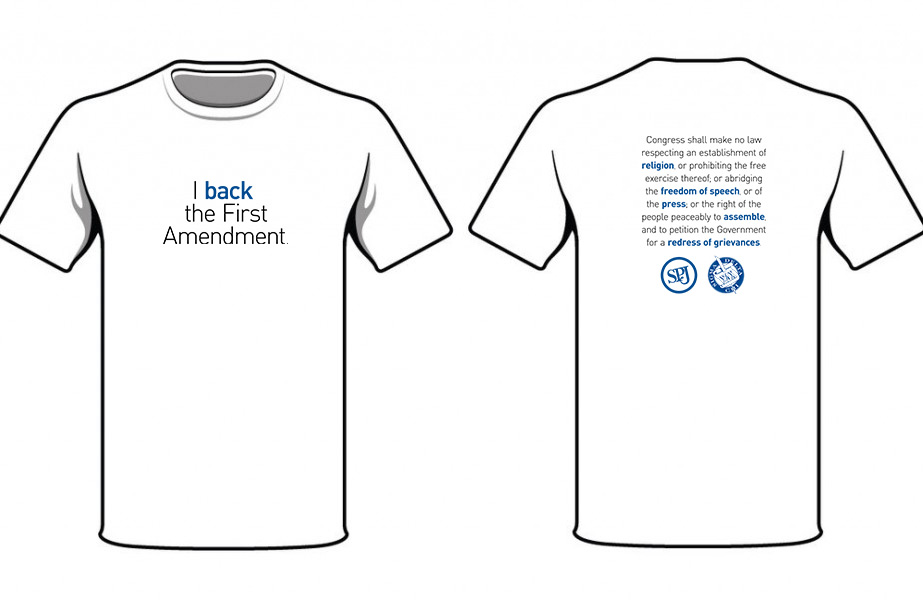 They're available in sizes S, M, L, XL and 2XL (while supplies last).
Contact Region 2 director Andy Schotz at LawnGyland@aol.com to check on availability.
The shirts cost $12 for one or $10 apiece if you buy at least three.
Payments may be made by check or through PayPal. Schotz will explain how.
The shirts also will be sold in person at this year's Excellence in Journalism convention in Anaheim Sept. 7 to 9. Remaining sizes will be sold after that until the shirts are gone.
Then, we hope to order a new batch.
All proceeds benefit SPJ and its First Amendment advocacy.
–Andy Schotz, Region 2 director
Help lead your chapter. Run for a seat on the SPJ-DC board of directors.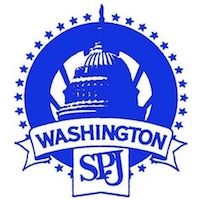 Our recent chapter elections opened three vacancies on our board, as directors Alice Ollstein, Eric Falquero and Elizabeth Grisham have moved up the chapter ladder to become officers.
We have filled two of the positions, but are still seeking one director to fill the remaining year of the other director's term, which will expire in June 2018.
Directors are expected to work fully with the board and to select an area or areas of interest on which they would like to focus their efforts. This may include serving on committees or working on projects such as organizing the Hall of Fame Dinner, or serving as a judge for the chapter's annual Dateline Awards and the national SPJ's media competitions. The executive board meets at least nine times a year, and dates are based on board member availability.
Interested in applying? Email a short statement of interest and your résumé to spjdcchapter@gmail.com. Candidates must be members of both SPJ-DC Pro and the national organization.
Have questions? Email SPJ-DC Chapter President Jonathan Make at spjdcchapter@gmail.com.
Attention authors: Applications now being accepted for 40th annual NPC Book Fair
Applications are now being accepted for the National Press Club's 40th annual Book Fair, scheduled for Friday, Nov. 10.
The deadline for requesting a space is 5 p.m. Friday, Sept. 29. Applications received after the deadline will not be considered.
All literary genres are considered, though self-published books and e-books are ineligible. The application fee of $75 for Club members and $150 for non-members is due and payable upon acceptance to the Book Fair.
Authors are expected to be available for the entire event, which runs from 5:30-8:30 p.m.
For more information and the author application, click here or contact Crystal White at cwhite@press.org.
Congratulations to SPJ members celebrating membership milestones
We offer our congratulations to several Washington-area SPJ members who are celebrating 5- or 10-year-mark membership milestones. We appreciate the involvement of these individuals.
We are also grateful for all of our other longtime members. No matter how long you've been part of SPJ, we appreciate your support and commitment to our mission. We look forward to serving you and connecting with you at events.
(Years listed represent length of membership in national SPJ.)
Bruce Harrison                        65 years
James Golden                          60 years
Kenneth Warren Jost              45 years
Kathryn Elaine George           45 years
Betty Cole Dukert                   40 years
John M. Nuhn                          35 years
Bill McCloskey                         30 years
Myrna Wahlquist                     30 years
Dan E. Kubiske                        30 years
Willie Schatz                           25 years
William Theobold                    25 years
Randy Showstack                    20 years
Ann Augherton                       20 years
Stephen A. Taylor                   15 years
Andy Schotz                           15 years
Steven R. Goodman                10 years
Carla Bundy                            10 years
Robert M. Higginbotham        10 years
Christopher J. Farrell              5 years
Theodore Emery                     5 years
Christine Lawrence                5 years
Sally K. Kubetin                      5 years
Christina Kielich                    5 years
Wayne Rash                            5 years
Ilana Kowarski                       5 years
–List compiled by former SPJ-DC board member Jim Asendio.
SPJ-DC Leadership
President: Jonathan Make
Vice President & Program Chair: Alice Ollstein
Treasurer: Eric Falquero
Corresponding Secretary: Amy Fickling
Recording Secretary: Elizabeth Grisham
Directors
Dee Ann Divis
Ana Pinilla
Ex-Officio
Kathleen Burns – Immediate past president
Sue Kopen Katcef – SPJ vice president for campus chapter affairs
Andy Schotz – SPJ Region 2 Director
Other Officials of Note
Stephenie Overman – Freelance group chair
Joe Starrs – Local student liaison committee chair
Steve Taylor – HOF nominations committee chair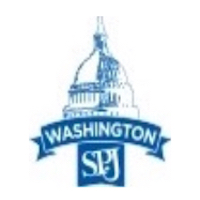 Deadline for submitting copy for next issue: September 16 at 11:59 p.m.
Send copy to Newsletter Editor Elizabeth Grisham.
Follow us on Facebook and Twitter for additional chapter news and event information.