A group of about a dozen Society of Professional Journalists Washington, D.C., Pro Chapter members and their friends and families attended Friday night's Washington Nationals v. Cincinnati Reds baseball game at N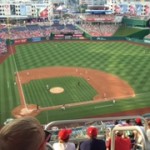 ationals Park. The lengthy game was low scoring and filled with errors, yet attendees had a good time.
Sitting next to the press box in the penultimate and third-to-last rows, the SPJ contingent mostly missed the drenching that delayed the game by almost an hour. Thanks to the stadium's protective cover over our section, the SPJ fans would have been mostly protected in case of rain. That is according to Nats season ticket holder Bill McCloskey, an SPJ national director and former SPJ D.C. president. (He also works with the author of this post.) The chapter thanks Bill for organizing this event.
The game started late and ended late, too. It was low scoring — no runs for a few innings, then for a few innings more, there was only one run per team, then eventually there were two runs, and for multiple innings, there were no further runs. In total, the match went 14 innings. So long, in fact, that a second seventh-inning stretch occurred between the top and the bottom of what was to be the last inning.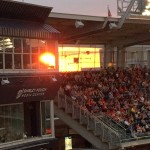 The post-game fireworks were canceled because of the lateness. According to a Washington Post story about the game, D.C. law forbids fireworks displays from starting after 10:45 p.m. on any night, to preserve neighbors' peace during hours typically reserved for slumber or at least quiet.
In other game news, George Washington's likeness won the on-field race between five ex-presidents. During most innings, at least one umpire decision was contested, leading to a pause in play while impartial referees reviewed the game video.
Other attendees included: past SPJ D.C. President Julie Asher, who was succeeded last month by Kathy Burns; longtime SPJ members like past SPJ D.C. President Ann Augherton and husband Chris Gunty; past SPJ D.C. President Mary Crowley; SPJ national Campus Chapter Affairs Vice President Sue Kopen Katcef; longtime member Ira Allen and his family; Charles Pekow; and the author of this post, the vice president of SPJ D.C.
Thanks to McCloskey, these trips to see the Nats have been an almost annual affair. Stay tuned to the SPJ DC website for information on future chapter outings, whether to see the Nats play or otherwise.
Thanks also to Ann for taking these photos.