SPJ DC Pro members vote to approve proposed changes
to chapter Constitution and By-laws

At its Membership Appreciation meeting on Saturday, January 27, 2018, SPJ DC Pro recognized several for their longtime memberships and approved during the business session important changes to the rules governing the chapter, meant to help bring SPJ DC into the 21st century by recognizing electronic and other record keeping and also instituting good governance and journalism practices like keeping events on the record.
There was considerable discussion, overseen by Bylaws Committee members Amy Fickling and April Bethea, among some of the 23 attendees about the proposed revisions at the all-member meeting. A decision was made to vote on whether to approve the bulk of the bylaws changes that were researched over several years by various members serving on the Bylaws Committee and approved unanimously by the SPJ DC board, reserving several sections of concern to some members present for separate consideration and vote. The bulk changes were approved by a 19-4 vote. Some members, including Bob Becker, were concerned that these changes were not sufficiently in keeping with the national SPJ bylaws.
Following the first vote, discussion turned to a particular portion of the proposed revisions that would allow the chapter to have electronic record keeping. Becker and some others continued to voice concerns about this, including Kathryn Foxhall, who is on the national SPJ Freedom of Information Committee and who crusades for media and public access to government records, as well as access to the government employees who best can interpret the data contained in those records. After further discussion, these sections of changes also were approved, 17-4, with one abstention.
After the voting, members recognized longtime chapter members for their years of SPJ membership, mostly marked by anniversaries at five-year intervals. Bruce Harrison has been a member for 65 years, starting from when he was a journalism student at the University of Alabama. He graduated in 1954 with a "Sigma Delta Chi" ribbon on his diploma. SDX is what SPJ started out as in 1909. In his brief remarks Saturday, he recommended that journalists not tweet in the middle of the night and also lamented that some online journalism isn't always completely accurate. Other members recognized for various milestones were Hank Wieland (52 years), Kenneth Jost (45 years), Bill McCloskey and Dan Kubiske (30 years), Steve Taylor (15 years) and new at-large member of the SPJ DC board, Randy Showstack (20 years). A complete list of all members hitting 5-year anniversary milestones is here: http://spjdc.org/2018/01/chapter-starts-new-year-nod-press-freedom/.
At the start of the meeting, Showstack was sworn in by Fickling. The chapter board met in the same location at 9 a.m. prior to the 10:15 a.m. membership meeting.
The meeting was in Bethesda, Maryland, at the Bethesda-Chevy Chase Regional Services Center, centrally located in the downtown area of the city and immediately adjacent to the Bethesda Metro station. Following the meeting, many attendees repaired to a nearby restaurant for lunch and drinks and camaraderie.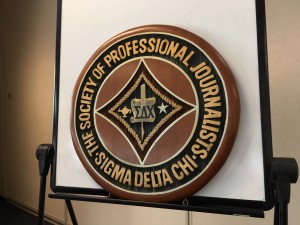 Steve Goldstein, a 44-year SPJ member, brought with him to the meeting the SPJ emblem he had ordered hand-made from wood some years ago. It incorporates the old SDX name and the newer Society of Professional Journalists moniker.
PAST EVENTS:
DON'T FORGET, RSVP FOR
SPJ DC Pro
Membership Appreciation Meeting Jan. 27
with important bylaws revision vote
Calling all SPJ DC Pro Chapter Members:
WHAT: You're going to enjoy chatting with fellow chapter members and celebrating the membership milestones of several during the chapter's Membership Appreciation Meeting on Saturday, Jan. 27, 10:15 a.m. to noon.
You'll also be participating in a business meeting of the chapter – that's something we haven't done in recent memory of some long-time chapter members! The main item of business will be to formally vote on whether to approve proposed changes to the chapter's Constitution and Bylaws. The proposed revisions are submitted as a final version by the chapter Executive Board, reflecting comments made during the membership comment period from mid-October to mid-November.
A wide array of members worked on this comprehensive set of revisions for some time.Past chapter president Maurine Beasley, who served as Bylaws Committee chair in 2016, said her first attempt at an update seemed to present a monumental challenge: keep the spirit of the bylaws as a bare bones document but also allow the chapter to communicate with new technology not defined in the original documents. She said she commends the work of the chapter board in crafting a proposed "document that manages to incorporate both the open nature of the chapter's traditional self-government and the efficiency of the digital age."
The revisions include memorializing the chapter's commitment to openness and transparency.
You can find the revisions at http://spjdc.org/information-constitution-bylaws/. Questions? Email Bylaws Committee members Amy Fickling and April Bethea at spjdcchapter@gmail.com.
WHAT ELSE: If you have other matters to bring before the membership during the meeting, you can use the chapter email address at spjdcchapter@gmail.com to let us know in advance, or come prepared to add them to the meeting agenda. Also come prepared to introduce yourself – we're planning to give you an opportunity to share our journalism involvements and generally celebrate the profession at a time when our work is stymied or even ridiculed by the public institutions we are trying to make sure are serving the public interest as they should be.
GETTING THERE: There is no cost to you to attend. We'll have light snacks and coffee and water. RSVPs are appreciated for preparations, and you can respond by sending an email to spjdcchapter@gmail.com. Or you can respond using the electronic invitation.
We will meet in WEST ROOM-A  at the Bethesda-Chevy Chase Regional Services Center, located just off the Bethesda Metro stop in downtown Bethesda, Maryland. When you get to the top of the escalators exiting the Bethesda Metro stop, go left through the bus bay. The street just outside the bay is the one where the B-CC RSC is located, and it is almost straight ahead of you, with parking beneath it. Walk around to the entrance. The West Room-A is on the second floor. There is free parking in several Montgomery County garages in the area, with Metropolitan Garage #49 in the same block as the B-CC RSC. This also will be the last weekend for free Saturday parking at Metro parking lots, as fees will go into effect on Feb. 1 at 36 locations.
CHAPTER BOARD MEETS BEFOREHAND: Those wishing to attend an SPJ DC board meeting can arrive at 9 a.m. for that on Saturday, Jan. 27. Following the membership meeting (we have to be out of the building by noon), we plan to continue the camaraderie in an informal setting at a nearby bar or restaurant, if there is enough interest in doing so.
WE ARE LOOKING FORWARD TO SEEING YOU THERE!!
Here are the SPJ membership milestones among chapter members in 2017:
65 years — Bruce Harrison
60 years — James Golden
45 years — Kathy (Kay) George, Kenneth Jost
40 years — Betty Cole Dukert
35 years — John Nuhn
30 years — Dan Kubiske, Bill McCloskey, Myrna Wahlquist
25 years — Willie Schatz, William Theobald
20 years — Ann Augherton, Randy Showstack
15 years — Andy Schotz, Steve Taylor
10 years — Carla Bundy, Steve Goodman, Robert Higgenbotham
5 years — Theo Emery, Christopher Farrell, Christina Kielich (ASSOCIATE), Sally Kubetin, Christine Lawrence, Wayne Rash
Maybe your 5- or 10-year anniversary milestone will be in 2018?
———–
Upcoming event: C'mon, get happy! Nov. 14 happy hour
Want to kick back a little after work and mingle with some fellow journalists and aspiring journalists?
On Nov. 14 SPJ-DC Pro is hosting a get-together for the chapter and students participating in Georgetown University's Master's in Journalism program, starting at 6 p.m. We will gather on the mezzanine at the National Press Club (note change in location inside Club).
Come for some informal talking and sharing ideas. Get to know other chapter members and see why you'll want to get more involved in activities we plan and carry out.
SPJ-DC is taking care of providing the event space and the camaraderie, and you'll pick up the tab (cash bar) for whatever you decide to eat or drink during the evening.
An entry code will be needed to access the Press Club, so let us know if you are planning to be there. Email us at spjdcchapter@gmail.com (subject: Nov. 14 Happy Hour) in case you don't receive an Eventbrite notice. We'll then send you the code right before that evening.
———–
How to Work With Whistleblowers
This year, some of the biggest and most important stories broken in DC have been the result of a government whistleblower sharing information with a journalist. Whistleblowers and journalists are essential partners, but those relationships are more at risk than ever.
The Society of Professional Journalists and the Government Accountability Project invite you to a training that will offer journalists key insights and tips for working with whistleblowers to report on serious violations of public trust while ensuring the employee source is not put at greater risk of reprisal in the process.
Space is limited! Reserve your seat today! Registration closes on Oct. 1. No tickets will be available at the door.
The topics presented by trained legal experts will include:
 Whistleblowing 101: What (and who) is a Whistleblower?
 The Legal Landscape: The Complicated Patchwork of Whistleblower Protection Laws
 Working with Whistleblowers

The Primacy of Trust
Unique Challenges of Working with Whistleblowers

 Practical Pointers

Locating whistleblowers
Preserving Anonymity
FOIA work based on whistleblowers
Where: 640 Massachusetts Ave NW Washington, DC 20001
When: October 2, 2017, 5:30-7:00 pm (food provided)
Cost: Free to SPJ members and Georgetown students; $5.00 for non-members.
Want to come to this event and others for free? Join SPJ today! https://www.spj.org/joinapp-quick.asp
RSVP on Eventbrite.