September 2017 | Vol. 2, Issue 8
In this issue:
Feedback wanted on proposed bylaws changes
Past SPJ-DC Chapter President Herb Brubaker dies at 84
Comings and goings
EIJ delegates pass resolution saying PIOs impede free flow of information

Freelance Panelists Describe Ways to Retell, Resell Stories

EIJ17: A view from the freelance corner
Convention meeting votes
Convention honors two top broadcasters
First Amendment T-shirts
Job opportunities
Calendar of events
Board contact information
Deadline for October newsletter
Follow us on Facebook and Twitter
Members: Watch for e-mail about revisions to chapter constitution and bylaws

After a meticulous effort by the bylaws committee and executive board, the revisions to the chapter constitution and bylaws are nearing completion. The proposed revisions seek to, among other things, clarify procedures for chapter meetings and programs and expand chapter communications.

Current members of the chapter will receive a separate email in about a week with a link to the draft and details on how to offer feedback on the proposed revisions. A final vote by the membership will occur in the coming months. Anyone with questions about the changes can email Bylaws Committee members Amy Fickling and April Bethea at spjdcchapter@gmail.com.
Past Chapter President Herb Brubaker dies at 84
Past SPJ-DC Chapter President Herb Brubaker (1993-94), a 57-year member of SPJ, died July 30 at his home in Rockville, Maryland, according to an obituary posted Sept. 11 in the online edition of The Washington Post. He was 84. His son, Kurt, confirmed the death in a LinkedIn post on Aug. 5: https://www.linkedin.com/pulse/rest-peace-herb-brubaker-kurt-brubaker
Brubaker received national SPJ's Outstanding Chapter Member award in 1994 (now called a Dubin Award), and the DC Chapter was named Outstanding Large Chapter by the national organization that year as well. He joined SPJ in January 1956.
Brubaker was a participant in the spring of 1996 in a journalism exchange program arranged by a journalism professor at Towson State university under the auspices of SPJ and the State Department's U.S. Information Agency that took him to China, along with another past chapter president, Amy Fickling, and two members of the Maryland Pro Chapter, including Len Lazarick, who also is a current DC Pro member.
After a 21-year stint with NBC News in Washington, Brubaker founded the Television News Center, a nonprofit that trained TV reporters, producers, writers and anchors. Not only offering "live shot" training in Washington using a number of local journalism personalities to assist him, he also partnered in training programs with the University of Nevada-Las Vegas and the University of Maryland at College Park. Media reporter Paul Farhi of The Washington Post participated in one of the training sessions and wrote about it in the Post magazine in 1997: https://www.washingtonpost.com/archive/lifestyle/magazine/1997/10/12/behind-the-big-desk/63c31344-e42e-418f-876a-08c7f43f7d5d/?utm_term=.01df6d9cdfb5
When SPJ's national convention was held in Indianapolis in October 2001, Brubaker led a breakout session discussion on "how reporters told the stories of the lives affected by the terrorist attacks on New York City and Washington, D.C." on Sept. 11, and reviewed the tapes and scripts of those television reports. In archived information found online about that national convention, national SPJ said that in "the wake of these tragic events [of Sept. 11 terrorist attacks on New York City and Washington, D.C.], the Society restructured several of the convention's professional development sessions to discuss responsible and compassionate media coverage."
Brubaker's support of the organization extended to the Society's Legal Defense Fund. One year when the national convention was held in D.C., he donated for the LDF auction two tickets to the Washington Redskins home game that was being played that weekend.
–Amy Fickling
Comings and goings
SPJ-DC Director April Bethea promoted to national homepage editor of The Washington Post:
https://www.washingtonpost.com/pr/wp/2017/09/06/april-bethea-promoted-to-national-homepage-editor/?utm_term=.e1f5c2f908d1
EIJ17 Delegates Pass Resolution Saying PIOs Threaten Free Flow of Information
The delegates to this month's SPJ national meeting passed a resolution saying that restrictions on journalists' access, including mandates that reporters always go through public information officers, threaten the free flow of information essential to a democratic society.
As the originator of that resolution, "Calling on Journalists to Oppose the Mandated Clearance Culture," I thought the final product was another good step in working against the obstructions.
The statement calls on, "all journalists, journalism groups, publishers, editors, journalism schools, and freedom of information groups to start and continue discussions on eliminating these restrictions and to explain to the public the hazards to society posed by these restrictions."
It drew much more discussion at the business meeting than any other resolution, in part because most resolutions were uncontroversial, such as the ones thanking departing SPJ Executive Director Joe Skeel and condemning President Trump's corrosive attacks on the press.
Most of the discussion on the clearance culture resolution centered on a proposed clause that would have called on news outlets to follow the same policies of openness they expect from government and other publicly oriented organizations. That was amended to call on news outlets to eschew policies that prohibit employees from communicating with outside journalists without notifying third parties including PIOs.
That paragraph was finally dropped due to some delegates' concern about whether there had been enough exploration on what statement meant for news outlets: Are there implications about legal or proprietary information? Would this mandate that newsrooms open up their documents?
However, discussion from the floor indicated that issue should be brought up next year, after more extensive examination.
I was pleased SPJ got that far with the discussion. I had told the delegates that many major news outlets have these restrictions and I believe that fact is one of the most potent endorsements of censorship in the 21st century.  In 2009-2010 when some journalists brought up the mandated clearance issue, a person in the Obama Administration carefully pointed out that a particular major outlet had those restrictions on its staff.
These internal restrictions are, I believe, one reason news outlets aren't telling the public about the problem, although much newsgathering is successfully blocked.
Even as the resolution passed without that clause, SPJ Freedom of Information chair Danielle McLean and others were planning more work on it.
–Kathryn Foxhall
Freelance Panelists Describe Ways to Retell, Resell Stories
Three seasoned freelancers presented a session on "Time is Money: The Art of Retelling and Reselling Stories" at the Excellence in Journalism convention in Anaheim, Calif.
The panel started with a copyright primer presented by Hazel Becker, SPJ freelance community chair and a member of the Washington chapter.
"People are freelance journalists and they don't understand their rights. If you write it, you own it, until you sell it," Becker said. She pointed out that the SPJ guide, "On Your Own: A Guide to Freelance Journalism," now includes a chapter on Copyright 101.
Freelancers Stephenie Overman, also a member of the Washington chapter, and Roberta Wax, a member of the Los Angeles chapter, discussed ways to resell articles and, more often, re-purpose material into new stories.
Check writers' guidelines to see if a market is open to reprints, Wax advised. "Unless a publication specifically says it uses reprints, you will need to update – or rewrite — your piece. Re-slant your original to fit the parameters of the new publication."
"Do an internet search for your work. If a particular article comes up a lot, that article will probably be hard to resell, even if it is revised. Consider the new audience. Would they have already seen your piece? If so, it's not a good candidate for a resell," she added.
Smaller markets are more likely to be open to retreads, Wax said. "Look at overseas markets and noncompeting markets, such as regional publications. Find markets that don't draw the same audience."
Both freelancers recommended thinking about how an idea can be re-purposed as early in the process as possible, not waiting until an article is finished to start looking for other angles.
Wax, a generalist, sometimes adapts articles for different age groups, such as teens, new moms, seniors or recent college grads, or for different occupations, such as small business owners, human resource managers, salespeople and teachers.
Overman, who specializes in health and workplace trends, often writes on those topics for trade publications in different, noncompeting industries. She gave an example of an assignment to write about hiring military veterans that — with additional research and quotes — she was able to turn into stories for four other publications.
Check trade publications' editorial calendars for ideas, she added, "It's easier to pitch a freelance story when they have a slot to fill in their editorial calendar."
Overman and Wax recommended that freelancers be open to a range of markets, including alumni magazines, white papers, podcasts and books.
Wax suggested pulling information from related articles for a "best of" piece. "For instance, if you've done several articles about artisan breweries, create a Top 10 List of Best Neighborhood Pubs. Think creatively: create a quiz, write a sidebar, make a list."
Remember, she said, "It's all fodder."
EIJ17: A view from the Freelance Corner
It seemed at times like almost everyone was a freelancer!
That was my impression at Excellence in Journalism (EIJ17), the conference and expo SPJ co-sponsored, along with the Radio Television Digital News Association (RTDNA), National Association of Hispanic Journalists (NAHJ) and Native American Journalists Association (NAJA), in Anaheim, Calif., Sept. 7-9.
Maybe it seemed that way because I spent so much time at the Freelance Corner meeting people from all aspects of the news media – word journalists (print and digital), broadcasters, photojournalists, new media reporters and producers – wanting to talk about how to be successful as independent journalists.
Luckily we were always able to find someone to answer their questions. There were many versions of "how do I …" and "where do I find …," sometimes answered by D.C. Pro freelancers Kathy Burns, Kathryn Foxhall, Stephenie Overman, Tom Pfeifer, Andy Schotz, Steve Taylor or me – whether staffing the Corner for the national SPJ Freelance Community or just passing by at the right time.
We were reminded that in this transitional era into the journalism of the future, everyone can be a freelancer. Those stopping by included not only full-time independent journalists like Stephenie and retired (or other) part-timers like me, freelancers by choice – but also laid-off and early-career professionals freelancing their way through the job hunt, students looking for clips and pin money, teachers looking for side-line gigs so they can keep up their skills and give better advice to their students, and particularly newbies who don't yet know how to go about finding clients and getting paid as freelancers.
All can be freelancers. All are freelancers.
A freelancer's view of EIJ …
At EIJ17 it seemed as though freelancers were everywhere!
Independent journalists spoke at "super-sessions" to talk about some of the most pressing issues facing journalism today – including Roque Planas, a national reporter for The Huffington Post, on a panel whose title declared that "Covering Immigrant and Refugee Communities is for Every Journalist." Freelancers led and spoke on panels – not only the ones sponsored by the SPJ Freelance Community about freelance investigative journalism and how to reuse your work to save time and make more money, but also many other breakout sessions.
Freelancers were honored – most notably, D.C. Pro delegate Kathryn Foxhall for her work on the increasing controls placed on access to government officials by federal public information officers, who received one of four Sunshine Awards – and Robyn Davis Sekula, membership chair, for her continuing contributions to SPJ.
And, perhaps most important, a freelancer was elected president-elect, to lead SPJ from September 2018 to September 2019. Alex Tarquinio noted in her campaign speech at the opening business session that helping independent journalists embroiled in legal battles is an important function of the Legal Defense Fund. Early indications are that Tarquinio will support other SPJ initiatives to help freelancers weather this tumultuous transition to whatever comes next for our profession.
Other freelancers in leadership positions at SPJ include regional directors Jane Primerano, Andy Schotz and Kari Williams; Membership Committee Chair Robyn Davis Sekula; and community chairs Elle Toussi (International) and me (Freelance).
And, perhaps a first? All delegates from our chapter – Kathy Burns, Kathryn Foxhall, Andy Schotz and me – are freelancers
Learning, networking, meeting – and fun!
With 1,700+ in attendance, of course freelancers weren't the only people there (though, as I learned, all the people there could be freelancers if they wanted). With four sponsoring organizations, the halls and rooms were crowded and busy with multi-ethnic, multi-platform, multi-purpose journalists.
For fun there was bowling, music and food at the CNN-sponsored opening night reception. Dances and mixers and coffees, receptions and lunches and banquet dinners. House of Blues! Disneyland! Journalists everywhere. So much going on …
The sold-out Expo hall was crammed with exhibitors. Some were helping journalists find information for stories – about economic statistics, cancer research, reducing poverty, vehicle recalls, natural resources. Some were hawking tools and equipment to help us do our jobs better. Mostly, though, they were recruiting – students for graduate programs, applicants for reporting fellowships and grants, and jobs-jobs-jobs! It hardly seemed like the bleak layoff environment we hear so much about …
Super-sessions were crammed with attendees – listening to Lester Holt, accepting an RTDNA award by live feed from Miami in the lead-up to Hurricane Irma as a reminder of why he was honored; and hearing panels of front-line journalists talk about covering the Trump administration, immigration and refugees. In break-out sessions, attendees soaked up tips on the latest gadgets, covering hate, how to build a "platform" for your journalism, how to use FOIA more effectively, covering natural disasters and cybersecurity – just to name a few timely topics.
If you're sorry you missed it, read the EIJ News coverage and check out audios of some of the sessions at https://www.spj.org/c-recap17.asp.
And, plan to join us at EIJ18 in Baltimore … or EIJ19 in San Antonio … or in EIJ20, right here in Washington, D.C.!
–Hazel Becker
EIJ17 meeting votes
SPJ board meeting, Sept. 6, 2017
• Staffing report: Executive Director Joe Skeel, Associate Executive Director Chris Vachon, Fundraising Coordinator Katie Hunt and Director of Education Scott Leadingham all are leaving their positions. Skeel will stay the longest, through Dec. 1. A development manager and an education manager will be hired, with some different responsibilities than the current positions have. The communication intern position has been extended from one year to two years.
• Inactive chapters: The board approved a recommendation to inactivate several pro and campus chapters (none in Region 2).
Pro: Milwaukee Pro, Inland Northwest Pro
Campus: Boston U., Brockport College, Canisius College, Franklin Pierce U., Winthrop U., Kent State U., Wayne State College, Western Michigan U., DePauw U., Franklin College, Indiana U.-Purdue, U. of Wisconsin-Madison, U. of Central Missouri, U. of Missouri, Abilene Christian U., Baylor U., SMU, TCU, U. of Oklahoma, Utah State U., Seattle U., U. of Idaho, U. of Oregon, Cal State U.-Long Beach.
• A committee has recommended changes to Quill magazine, including:
Cut from six issues to four issues per year, with additional updates on the website
More in-depth, themed stories
Limit news about chapters and SPJ HQ to the website
Have students participate more
• The board voted unanimously that a $52,000 donation from the state of Hillary Wiggin shall go to the First Amendment Forever Fund
• The board approved a spending policy. The proposal that came to the board said: "Executive Committee approval is required to pay for any services costing $3,000 or more unless the full board previously authorized the expense." After some debate, the board raised the threshold to $5,000 and approved the policy 17-6. Board members who voted against were: Bill McCloskey, Rebecca Baker, Lynn Walsh, Paul Fletcher, Joe Radske and Rachel Wedding McClelland.
• The board went into executive session to talk about plans for hiring a new executive director.
*****
SDX Foundation board meeting, Sept. 6, 2017
The main item on the agenda was for the Journalist on Call. It's a proposed new staff position, to be defined in more detail later.
It might be an expert who could be available for journalists and news organizations with an immediate need, such as a legal or ethical problem. It might be a clearinghouse of information, connecting people to resources they need. It might be someone to promote journalism and credibility to the public.
Attempts to get outside grant funding have been unsuccessful, so the board considered whether to fully fund the position with SDX money. The projected budget was about $120,000 a year, including salary, benefits and travel, for three years.
Some possible savings to help reach that budget included: salary savings through staffing changes, eliminating three JournCamps, eliminating on-demand video training, and printing Quill less often.
SDX board member Sally Lehrman proposed cutting the position to one year as a trial, to be developed further. The board opposed that idea.
Lehrman also proposed increasing the budget from $120,000 a year to $180,000 a year, which passed.
The final vote on creating the Journalist on Call position with a budget of $180,000 a year was 17-6 in favor. Board members who voted against the motion were: Todd Gillman, Kelly Hawes, Jane Kirtley, Al Leeds, Mac McKerral and one other person who I missed in my notes.
• The SDX Foundation board also approved the recommendations for changing Quill magazine (see above). The only vote against was by Al Leeds.
• The board approved adding April Bethea, Robyn Davis Sekula and Michael Bolden to the board. It also approved having Paul Fletcher continue to serve on the board.
*****
SPJ board meeting, Sept. 10, 2017
• There were three nominations for two spots on the board's Executive Committee. Matt Hall, with 15 votes, and Jane Primerano, with 11 votes, were elected to the committee. Lauren Bartlett had 10 votes.
• Incoming President Rebecca Baker said she was appointing four people to the SDX Foundation board: J. Alex Tarquinio, Lynn Walsh, Joe Radske and Andy Schotz.
• The board approved Matt Hall and Bill McCloskey for the board's Finance Committee.
• The board reviewed a draft of a job description for advertising the position of executive director.
• Baker announced that the board will have additional meetings during the year, besides the spring meeting and the meetings at the national convention. The additional meetings will be in November, January and July.
• Executive Director Joe Skeel said three people were chosen for the new position of at-large delegate representing SPJ members who don't belong to chapters. Two attended the convention from Region 11. A third person, from Region 3, had to cancel.
–Andy Schotz
Convention Honors Two Top Broadcasters
More than 600 Excellence in Journalism 2017 attendees jammed into the ballrooms of the Anaheim Marriott on Sept. 7 to applaud the convention's top honorees:  CNN anchor and chief Washington correspondent Jake Tapper and NBC Nightly News Anchor Lester Holt. The event was sponsored by the Radio Television Digital News Association (RTDNA), a co-sponsor of the convention.
Tapper, who joined CNN in 2013, received the RTNDA's John F. Hogan Distinguished Service Award, which recognizes an individual's contributions to the journalism profession and to freedom of the press. It is named for the founder and first president of RTNDA.
Holt, who joined NBC News in 2000, was honored with the Paul White Award, the highest recognition by RTNDA.  It was created in 1956 to honor the broadcast news pioneer who served as the first director at CBS.  It recognizes an individual's lifetime contribution to electronic journalism.  Past recipients include: Edward R. Murrow, Ted Koppel, Tom Brokaw, Dan Rather, Peter Jennings and Bob Schieffer.
Even a raging hurricane along the Florida coast didn't keep Holt from addressing the gathering.  Clutching his microphone amidst battering winds and rains while he stood on a Miami beach, he appeared live via a satellite hook-up.
"This is not exactly how I intended to address you all today.  I actually planned to wear something a little nicer," deadpanned a soaked Holt.  "However, if there is one audience that I was pretty sure would understand the circumstances, it is this one: my fellow news people."
He told of first applying to NBC back in August 1977, after graduating from high school. A network official noted that while he was "impressed by your credentials…it's not exactly what we are looking for at this time."  He followed a non-conventional path, from Country and Western DJ, to radio reporter chasing fires and police calls, and landed his first TV news job in New York City at age 22. "But now, 36 years later, I'm still learning on the job, and still, as you can see, chasing the news."
Tapper also related his diverse path for his journalism career. Prior to joining CNN, he was with ABC and served as senior White House correspondent.  He was also a national correspondent for Salon.Com and has been published in The Washington Post, The New Yorker, The Los Angeles Times, and The Weekly Standard among others, and is a frequent contributor to National Public Radio.
He reflected on "this challenging moment in journalism, with the media "under assault by lying Twitter trolls and hostile foreign governments and juvenile officials in our own country does not mean we lower our standards," Tapper emphasized.  "We, in media, now more than ever, need to make sure we are excelling and that we are not choosing partisan sides…that we are equal opportunity skeptics, that we have crossed every T and dotted every I, to make sure our facts are correct.
"Let us work hard to earn back the trust of the American people, as I know each and every person in this room aspires to achieve, every single day," Tapper said.
–Kathleen Burns
Wearing the five freedoms
If you're reading this, we know you value the First Amendment.
How would you like it on your back? Of course you would.
Here's how.
SPJ has awesome new First Amendment T-shirts. They're white with black letters, with blue to emphasize the five freedoms in the First Amendment.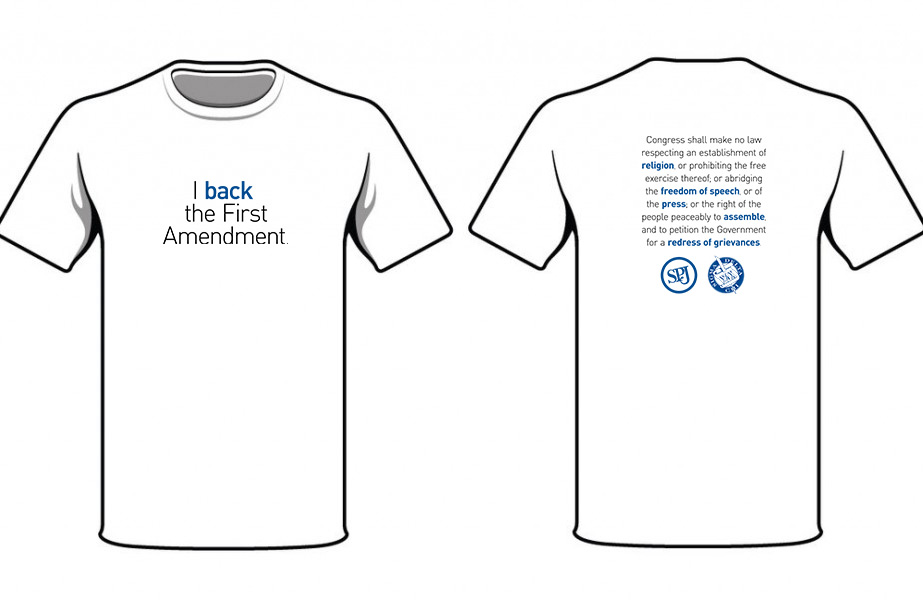 They're available in sizes S, M, L, XL and 2XL (while supplies last).
Contact Region 2 director Andy Schotz at LawnGyland@aol.com to check on availability.
The shirts cost $12 for one or $10 apiece if you buy at least three.
Payments may be made by check or through PayPal. Schotz will explain how.
All proceeds benefit SPJ and its First Amendment advocacy.
–Andy Schotz, Region 2 director
Job opportunities
Deputy News Editor: https://jobs.lever.co/bustle/2016cf5e-ade9-4226-b8f2-b177ed846d7a
Staff Reporter, DC: https://jobs.lever.co/bustle/793154ef-bdf4-4598-8dea-f428290ea4f9
News Writer, remote: https://jobs.lever.co/bustle/4a9a34b5-28fb-4ef2-a099-462828b2f14c
Calendar of events
Sept. 29 Deadline to apply for NPC book fair. See: http://www.press.org/bookfair or contact Crystal White at cwhite@press.org.
Oct. 1 Deadline to register for "How to work with whistleblowers"
Oct. 2 "How to work with whistleblowers" 5:30-7:00 p.m. at Georgetown University, 640 Massachusetts Ave., NW, Washington, D.C. 20001
SPJ-DC Leadership
President: Jonathan Make
Vice President & Program Chair: Alice Ollstein
Treasurer: Eric Falquero
Corresponding Secretary: Amy Fickling
Recording Secretary: Elizabeth Grisham
Directors
Dee Ann Divis
Ana Pinilla
Ex-Officio
Kathleen Burns – Immediate past president
Sue Kopen Katcef – SPJ vice president for campus chapter affairs
Andy Schotz – SPJ Region 2 Director
Other Officials of Note
Stephenie Overman – Freelance group chair
Joe Starrs – Local student liaison committee chair
Steve Taylor – HOF nominations committee chair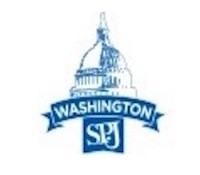 This newsletter is edited by the SPJ-DC board of directors.
Deadline for submitting October newsletter copy: Oct. 17
Send copy to:  Elizabeth Grisham.
Follow us on Facebook and Twitter for additional chapter news and event information.