Vol. 2 , Issue 6 | June 2017
In this issue:
The 2017 Dateline Awards/Hall of Fame dinner in tweets and photos
Call for delegates for national SPJ convention
Chapter launches new Foreign Press Liaison Committee

Help lead your chapter: Run for a position on the SPJ-DC board of directors

Washington journalists prepare for June 29 #HomelessNewsBlitz
Job opportunity
Calendar of events
Board contact information
Deadline to submit copy for August 2017 issue
The 2017 Dateline Awards/Hall of Fame dinner in tweets and photos
If you missed the 2017 Dateline Awards/Hall of Fame dinner or just want to relive the highlights, here's a rundown of the event.
The evening began with a reception.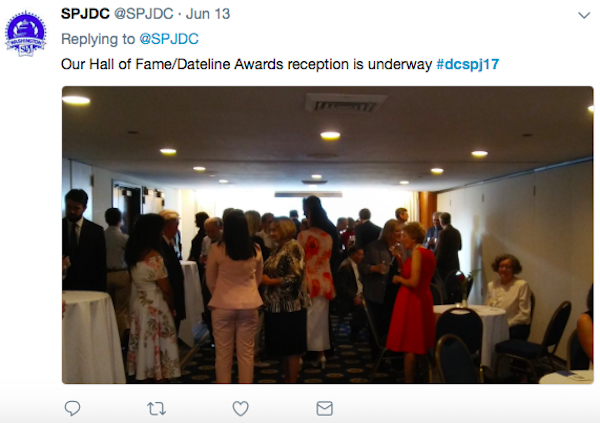 (Above) SPJ-DC Chapter Board Member Kathryn Foxhall is seated at the table to the right. Immediate Past President Kathleen Burns stands to the left of her.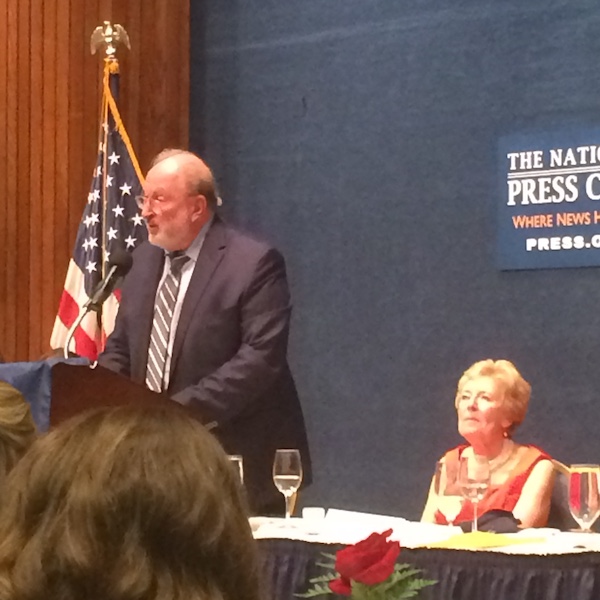 (Above) Jim Bohannon served as emcee. (Photo credit: Jonathan Make)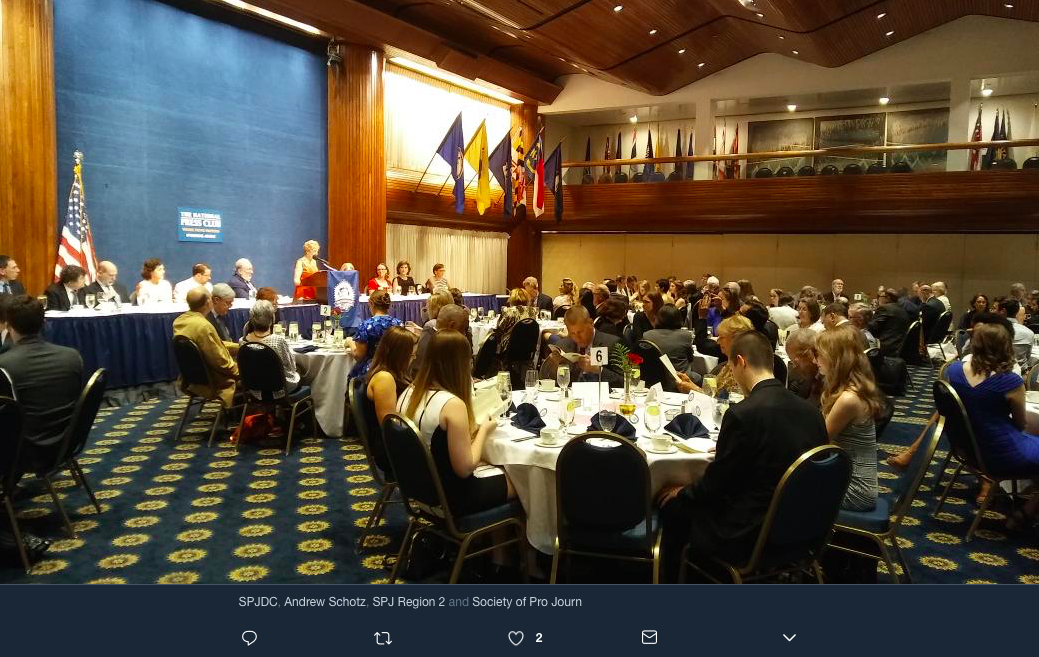 (Above) Immediate Past President Kathleen Burns addressed the audience. (Photo credit: @spjdc)
The honorees then took their turns at the podium.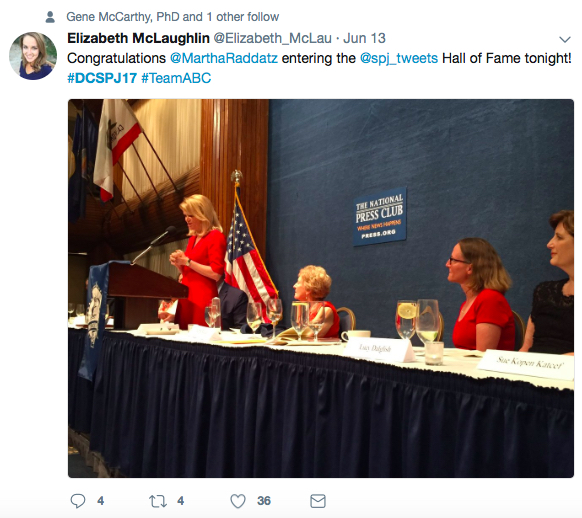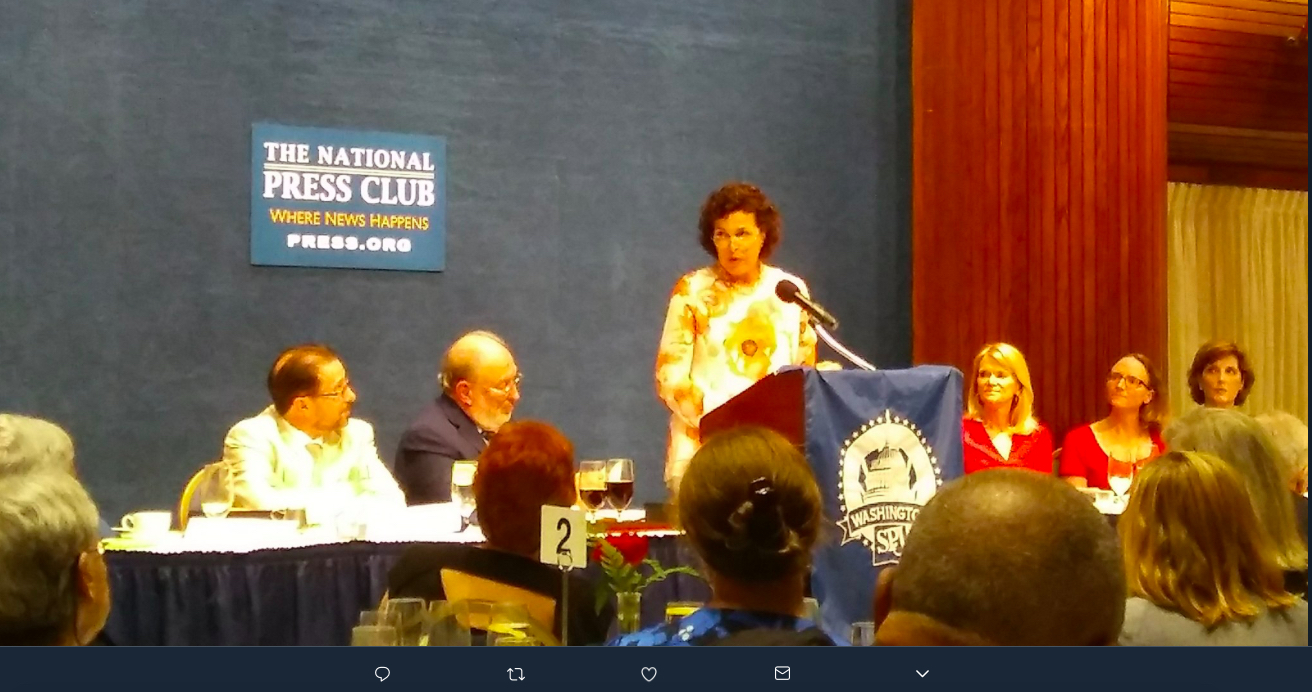 (Above) Alexis Simendinger, White House correspondent for RealClearPolitics.com and 2017 Hall of Fame inductee (Photo credit: @spjdc)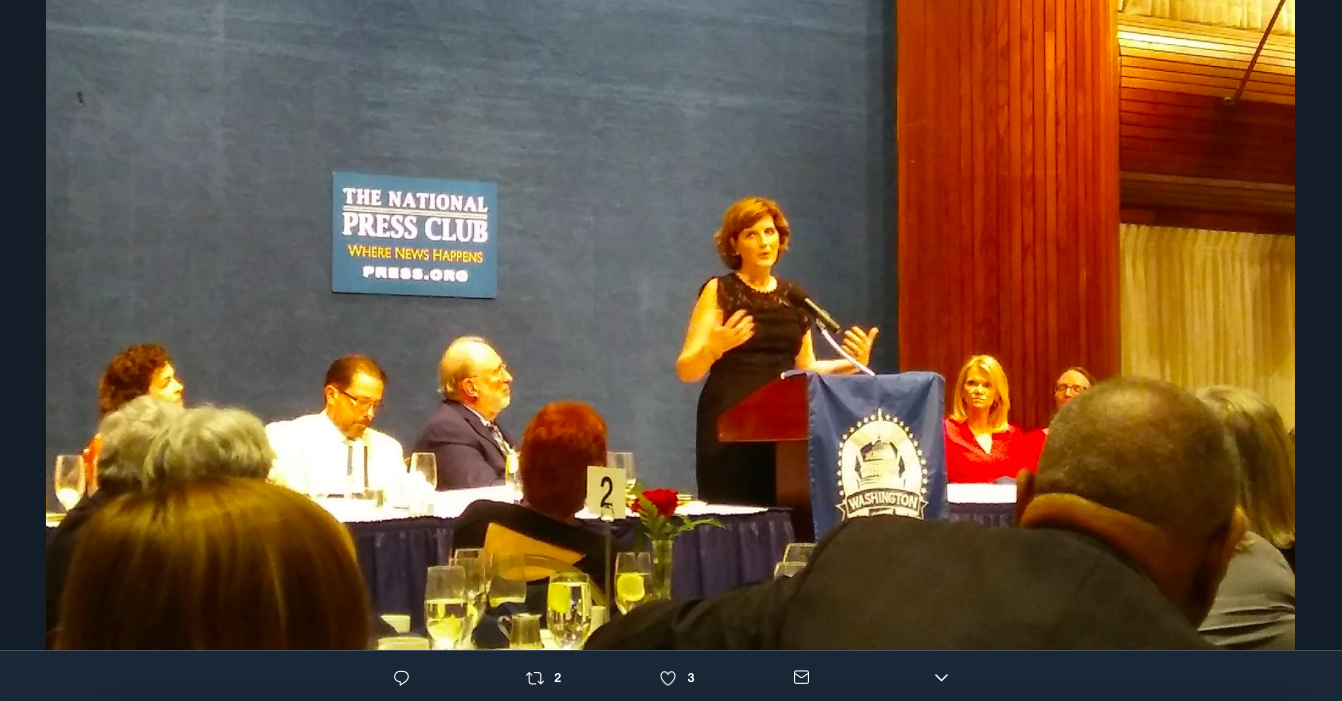 (Above) Lucy Dalglish, 2017 SPJ-DC Distinguished Service Award winner and dean of the Philip Merrill College of Journalism at the University of Maryland-College Park (Photo credit: @spjdc)
At other moments, though, things were decidedly less formal, like when Bohannon and WTOP Multimedia Reporter Kristi King posed for a selfie.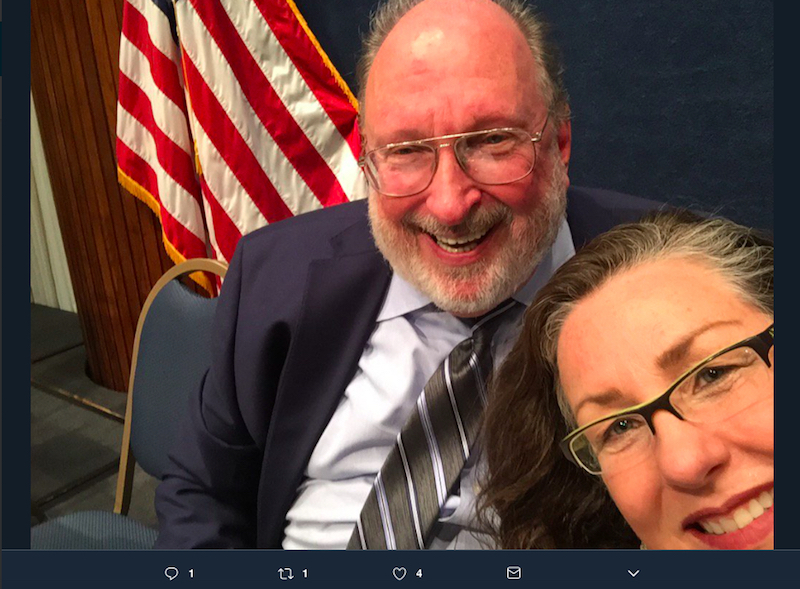 (Photo credit: @spjdc)
National Correspondent for McClatchy's Washington bureau Lesley Clark also kept the mood light when she tweeted about longtime Miami Herald humor columnist Dave Barry joking about his former editor's honor.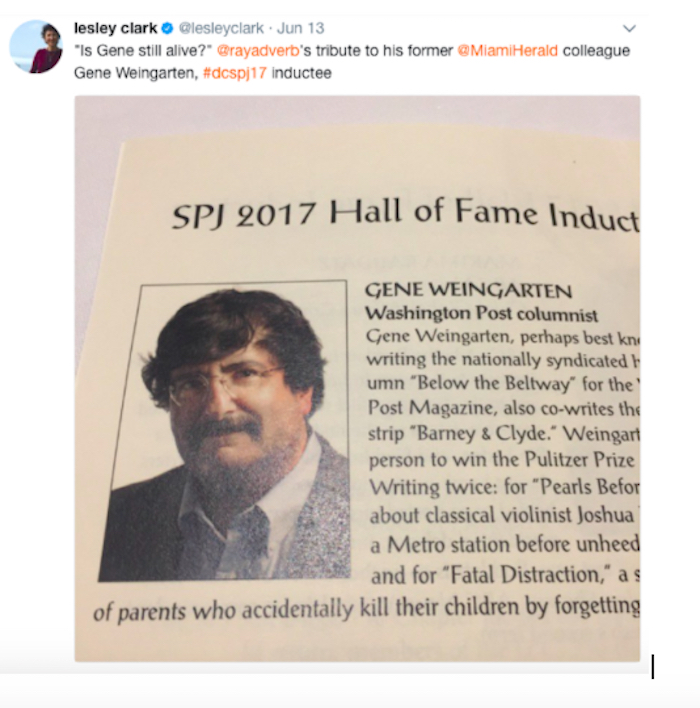 For the record, Weingarten is not only alive, but he arrived at the event armed with a sword. Of course, it was, at first, wrapped in newspaper, and only used to emphasize the old expression: the pen is mightier than the sword.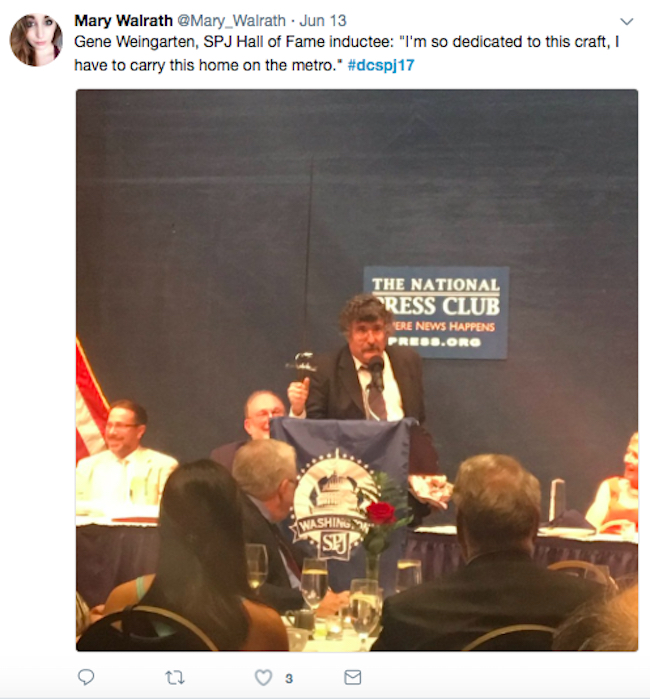 Weingarten wrote about his honor in his June 15 column, which can also be found in the June 18 print edition of The Washington Post Magazine.
Additional photos of the event can be found on the SPJ-DC chapter website and on Twitter. Search for the hashtag #DCSPJ17.
–Elizabeth Grisham
Want to be considered for a spot as chapter delegate for convention?

Your SPJ-DC Pro chapter wants to be well represented at this year's national Society of Professional Journalists Convention — Excellence in Journalism 2017– which will take place Sept. 7-9 in Anaheim, Calif.
We expect to have at least three delegate spots (the number is based on a chapter's membership). If you want to be considered to fill one of those, please send an email to spjdcchapter@gmail.com BY FRIDAY, JUNE 23.
In the subject line of your email please write: "Interested in being convention delegate in Anaheim." Explain why you want to represent the chapter. We're looking for candidates who have been active chapter members.
If you are selected, the chapter will pay your Early Bird registration fee, which is due by July 11.  If you aren't selected as a delegate, you are welcome to join us anyway.  Cost for the Early Bird registration is $230 for an SPJ member.  The price rises to $330 if submitted by Aug. 15, and to $430 for any registrations thereafter. For information, contact SPJ headquarters at 317-927-8000 or www.spj.org.
In addition to SPJ, partners in the programming and events will include the National Association of Hispanic Journalists and the Radio, Television and Digital New Association.  An extra option for convention attendees includes a 2.5-hour whale watching cruise from 9:15 to 11:45 a.m. for $40. For details, see www.daveyslocker.com or call 949-673-1434.
The Anaheim Marriott Hotel is hosting the convention. The rate for a single or a double room is $159 plus tax per night.  For information, call the hotel at 714-750-8000 or the toll-free Marriott Hotels number at 1-800-721-7033.
Airports in the vicinity to the hotel include: John Wayne Airport – Orange County (SNA), which is 14.1 miles from the hotel; LA Airport (LAX), 35 miles; and Long Beach Airport (LGB), 18.2 miles. The hotel does not have its own airport shuttle service, but you can contact the Super Shuttle at 1-800-258-3826 for details. You can get a 10 percent discount at the time of making your reservation if you use the Excellence in Journalism code number.
For EIJ17, national SPJ is again partnering with the Radio Television Digital News Association (RTDNA). The National Association of Hispanic Journalists (NAHJ) and Asian American Journalists Association are also co-sponsors this year.
Registration has already opened for EIJ17. Information about the convention can be found at http://excellenceinjournalism.org.
Chapter launches new Foreign Press Liaison Committee
The SPJ-DC chapter board has voted to start the new Foreign Press Liaison Committee. A spokesperson for the State Department's Foreign Press Center here in Washington said there are more than 1,000 foreign correspondents, based in the Washington area, who are accredited to provide media coverage.
As part of my 2016 campaign for chapter president, one of my goals was to work on creating a relationship between the SPJ-DC chapter and many of these international journalists.  In August 2016, the chapter did a media briefing and informal lunch for 18 journalists visiting from Shanghai. In May 2017, the chapter briefed the head of the Spanish Online Communications Media Association, based in Madrid. Jose Maria Suarez De lezo Herreros De Tejada also heads the country's Journalism Foundation. He is also a lawyer and has held positions in the Ministries of Education, Immigration, the Economy and Technology.
We are currently looking for SPJ volunteers who might be willing to host a briefing for a group of German journalists who will be visiting Washington Aug. 16-19.  The delegation of 12 German journalists is headed by  Felix Ferdinand Franz (felix@hostwriter.org).  He wrote to our SPJ chapter that:
"We would like to organize a MEETS AND GREET PARTY in a newsroom or a journalism pub for the hosts to meet the German colleagues.
We also aim to find LOCAL HOSTS for three nights in D.C. as our core motivation is to strengthen cross-border connections. Our participants are all working journalists, keen to learn more about the work of capital hacks. Do you happen to know a few journalists in Washington that have a free couch for three nights in August and would be interested in hosting a German colleague? Our program is pretty packed, so there won't be much free time, so no baby-sitting needed. If the hosts are interested, they are obviously also invited to our program."
If you can assist with planning a briefing and/or any accommodation, please email Mr. Franz at the above address.  Let him know if you are located near a Metro or bus stop.
Our thanks to our SPJ chapter members who have volunteered to serve on our Foreign Press Liaison Committee. They are  members of SPJ at the national and local level.  We are also eager to recruit other journalists who may be able to assist us with future briefing requests or suggestions on how our new committee can assist our foreign colleagues who are based here.
Ana Pinilla is a media relations specialist at Business Wire Washington with a background in print and broadcast journalism. She graduated from Purdue University with a double major in political science and communications. The company, founded in 1961, has 29 worldwide offices, including here in Washington. On a daily basis, Pinilla is exposed to the public relations world and works closely with editors and reporters by providing content leads that could match their beat. Pinilla has an international upbringing and has written and verbal bilingual capabilities.
Ariel Moutsatsos, DC bureau chief for Televisa News Network, a television network based in Mexico. It is a leading media company in the Spanish-speaking world, an important cable operator in Mexico and an operator of a leading direct-to-home satellite pay television system in Mexico. Prior to this job, Moutsatsos was a diplomat at the Mexican Embassy offices for the U.K. and Northern Ireland, and in Washington.  is also a member of the National Press Club and the Foreign Press Center. He speaks four languages and holds a Master of Arts in International Relations from the Universidad Complutense de Madrid and a Bachelor of Arts in Communications from the Instituto Technologica de Estudios Superiores de Monterrey.
Warren L. Nelson, English editor for the international Iran Times, an independent weekly that is distributed in the U.S., Canada, Europe, the Middle East and the Far East. Nelson is a journalist who once covered the Pentagon for United Press International. He also spent 20 years working for the House of Representatives, chiefly for the Armed Services Committee.
–Kathleen Burns (burnskathy1036@gmail.com)
Help lead your chapter. Run for a seat on the SPJ-DC board of directors.
Our recent chapter elections opened three vacancies on our board, as directors Alice Ollstein, Eric Falquero and Elizabeth Grisham move up the chapter ladder to become officers.
We are seeking two directors to fill the remaining year of their terms, which will expire in June 2018. Directors are expected to work fully with the board and to select an area or areas of interest on which they would like to focus their efforts. This may include serving on committees or working on projects such as organizing the Hall of Fame Dinner, or serving as a judge for the chapter's annual Dateline awards and the national SPJ's media competitions. The executive board meets at least nine times a year, and dates are based on board member availability.
Interested in applying for a vacancy? Email a short statement of interest and your résumé to spjdcchapter@gmail.com by June 23. Candidates must be a member of both SPJ-DC Pro and the national organization.
Have questions? Email SPJ-DC Chapter President Jonathan Make at spjdcchapter@gmail.com.
Washington prepares for June 29 #HomelessNewsBlitz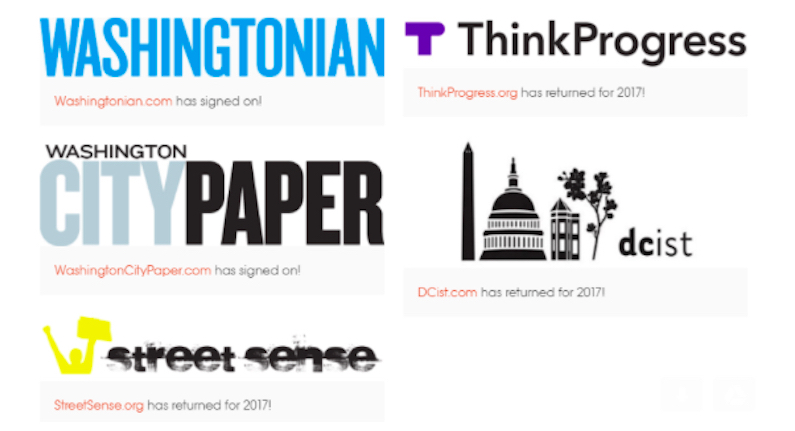 Inspired by San Francisco's now award-winning 88-outlet reporting project on homelessness — local and locally-based national media are joining together to produce a series of coordinated stories investigating the D.C. homeless crisis and its solutions.
My newspaper, along with 5 other outlets to-date, have signed on for this year's effort. Three others are working to finalize their official partnership and I hope that is just beginning.
Our nation's capital boasts the highest rate of homelessness in the United States and an average of 50 people are known to die while homeless each year in the D.C. area. During 2016, cities across the country declared states of emergency to address their local quandaries. While in recent years, local and federal government has been narrowing the definitions of who their emergency response systems serve in order to improve performance — acknowledging that they cannot help everyone afflicted with America's poverty.
D.C. journalists are coordinating to uncover what's working, what's not, where funding is being spent effectively, and where political will is a barrier. Please urge your employers, your colleagues and your daily news sources to help lead this initiative.
Seek solutions and report them. http://dcHomelessCrisis.press
Sincerely,
Eric Falquero
Board Member, D.C. Society of Professional Journalists
Editor, Street Sense | eric@streetsense.org | 202-347-2006 x 13
Job Opportunity
SPJ Program Coordinator
Serve as primary contact for SPJ national-level award programs. For full details, see: https://www.spj.org/employmentops.asp
Location: Indianapolis, IN
Apply by June 24.
Calendar of events
June 23
Deadline to submit materials to be considered for a delegate spot at EIJ17. See item in this newsletter for more information.
June 29
#HomelessNewsBlitz Washington-based and national media outlets will focus coverage on issues related to homelessness. See story in this issue for more information.
July 5
JAWS/SPJ-DC Outdoor Screening of All the President's Men Site opens at 7:00 p.m. Movie starts at sundown. More details here: http://bit.ly/1pgvAI1
July 18
Freelance committee luncheon Noon at the National Press Club. RSVP to Freelance Group Chair Stephenie Overman: saoverman@gmail.com
July 29
SPJ-DC outing to see the Washington Nationals play the Colorado Rockies at 7:05 p.m. Reserve a spot in advance by contacting Bill McCloskey at: bmcclos325@aol.com or 301-652-7583. The ticket price is expected to be determined by June 30, but will be no more than $26 for a seat in the gallery level (300 series of sections).  Once the price is known, send a check made out to SPJ-DC to Bill McCloskey, 4709 Overbrook Road, Bethesda, MD 20816-3029. Deadline for payment is July 15.
Sept. 7-9
National Society of Professional Journalists Convention — Excellence in Journalism 2017, Anaheim, Calif. For more information, see item in this newsletter and find more details here.
SPJ-DC Leadership
President: Jonathan Make
Vice President & Program Chair: Alice Ollstein
Treasurer: Eric Falquero
Corresponding Secretary: Amy Fickling
Recording Secretary: Elizabeth Grisham
Immediate Past President: Kathleen Burns
Directors
Dee Ann Divis
Ex-Officio
Sue Kopen Katcef – SPJ Vice President for Campus Chapter Affairs
Andy Schotz – SPJ Region 2 Director
Other Officials of Note
Stephenie Overman – Freelance group chair
Joe Starrs – Local student liaison committee chair
Steve Taylor – HOF nominations committee chair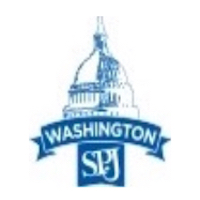 Deadline for submitting copy for next issue: August 10
Send copy to Newsletter Editor Elizabeth Grisham.