Vol. 2, No. 3 — March 2017
Inside this issue:
Coming soon: Chapter elections
Police-worn body cameras
Save the date: Hall of Fame inductions, Dateline Awards
PIO censorship in the era of Trump
Text of speech by Kathryn Foxhall to DCOG Summit
Journalism training opportunities
Solutions Journalism workshop takeaways
FOI study released
Calendar for Upcoming DC SPJ chapter events
Board contact information
Upcoming chapter elections
The SPJ DC Pro chapter is holding elections next month to select officers for the upcoming year and to fill 3 two-year board of directors terms. Members whose dues are up-to-date will receive a separate email with  details about how to cast votes.
Here are the candidates who have declared their intent to run to the nominating committee. Candidates' bios and statements will be posted to www.spjdc.org soon.
Ballots will be sent April 15 and must be returned by May 1.
President: Kathleen Burns, Jonathan Make
Vice President: Alice Ollstein
Treasurer: Eric Falquero
Recording Secretary: Elizabeth Grisham
Corresponding Secretary: Amy Fickling
Board of Directors: Dee Ann Divis, Kathryn Foxhall, April Bethea
.@DCPoliceDept#BodyWornCameras Stir Debate, Could Lead to Story Ideas for Journalists
March 16, 2017
*Note: This story was previously published here.
At a thought-provoking Society of Professional Journalists D.C. Pro Chapter paneldiscussion at Georgetown University's downtown campus, stakeholders on all sides of the police-worn body camera issue had something interesting to say. And reading between the lines, a journalist could come away from the discussion with story ideas for how to use the resulting video and data in reporting.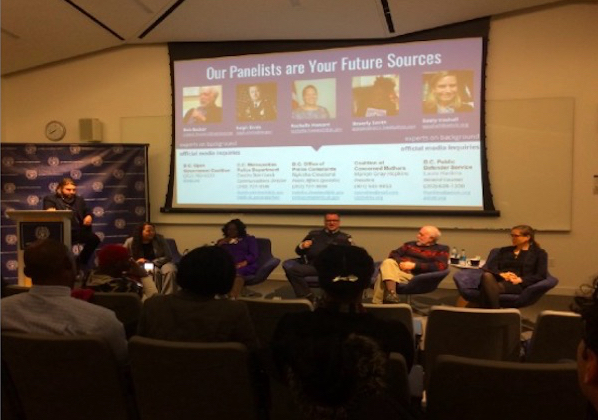 Left to right: Moderator Noah Gimbel (former editor-in-chief of Georgetown Law Journal), Rochelle M. Howard (D.C. Office of Police Complaints), Beverly A. Smith (Coalition of Concerned Mothers), Commander Ralph Ennis (Metropolitan Police Department), Robert Becker (D.C. Open Government Coalition) and Emily Voshell (D.C. Public Defender Service) speak to attendees of the Cops and Cameras event on March 16.
One area of sharp disagreement relates to police accountability. Beverly Smith, organizer of the Coalition of Concerned Mothers, has her doubts. She thinks that the mayor, who has authority to release any body-worn camera audio and video, only will do this when it casts officers in a favorable light. And she said that the presence of these cameras has done nothing to stop police violence against civilians.
One thing panelists all seem to agree on is that Washington's Metropolitan Police Department is among the most aggressive in the country at deploying this technology. All street-patrol officers now have them. And the city is in the midst of what sounds like an impressive, wide-ranging randomized study of the impact of the body cameras on police behavior. D.C. officials suggested the results may become public later this year.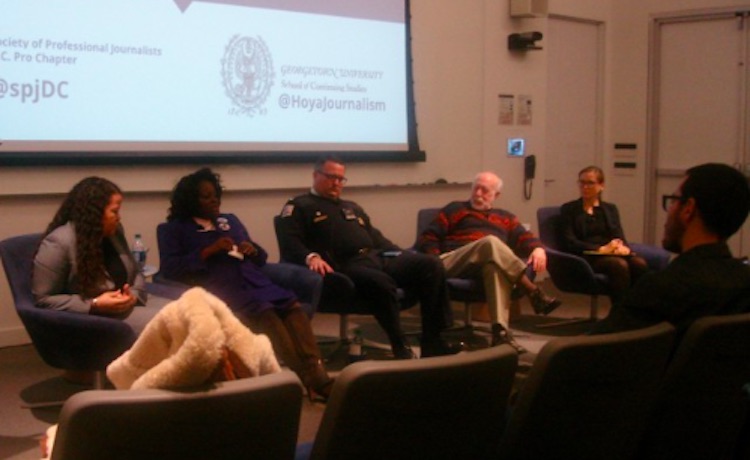 Panelists discuss issues related to body-worn cameras.
Others said that the cameras do help hold the authorities accountable to the public and in court. Rochelle Howard, deputy director of the D.C. Office of Police Complaints, said that sometimes the resulting video supports the police version of disputed events. In other instances, it supports potential or actual criminal defendants, she said.
Officer behavior has changed as a result of wearing the cameras, said Ralph Ennis, commander of MPD's Tactical Information Division. Although he can't be more specific, he said these devices are having an impact, and said the ongoing study of them is the biggest in the nation. He said the technology was rolled out carefully and gradually so that the department could get buy-in from officers, the union and other stakeholders. He stressed that police supervisors don't use the footage to play gotcha with officers and only look at it if there is a complaint or commendation.
SPJ member Robert Becker, representing the D.C. Open Government Coalition (on which he is a board member), said there are many limits on what video gets made public through the Freedom of Information Act process. His coalition met some success in opposing D.C. Mayor Muriel Bowser's attempt to keep more of this video secret. One thing he wondered about at the panel was the metadata from these devices and whether that could be useful.
Based on discussions after the panel and judging by what speakers said, local reporters could potentially find a wealth of information about police activities by analyzing this metadata. Assuming it could be made public. And although much of the footage ends up being redacted — and is entirely private when it occurs inside a private dwelling as opposed to on the street — what is publicly available through FOIA could probably make for some interesting news stories.
For more coverage of this event, see the Twitter feeds of SPJDC, Georgetown Journalism, TV reporter Rochelle Metzger, and of the makejdm blog. Thanks to SPJDC's Elizabeth Grisham for some of the photos. SPJDC's Eric Falquero helped organize this event.
–Jonathan Make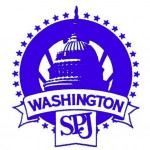 Save the Date!
On Tuesday, June 13, our SPJ-DC chapter will once again induct veteran Washington journalists into our Hall of Fame, present a leader in local journalism with our Distinguished Service Award, and announce the winners of the D.C. Dateline Awards. Our event will be held at the National Press Club, 14th and F Streets, NW. A reception will begin at 6 p.m. followed by dinner at 7 p.m. More details and ticket prices will be announced soon! Questions? Email dinner chair Julie Asher, spjdcchapter@gmail.com.
PIO censorship in the era of Trump
President Trump has already labeled major press outlets the "fake news media" and the "enemy of the people." His administration has blocked major news outlets from a briefing because it didn't like what they published.
With that in mind, the public should understand "censorship by PIO" at the federal level: For years, in many federal agencies, staff members have been prohibited from communicating with any journalist without notifying the authorities, usually the public information officers. And they often are unable to talk without PIO guards actively monitoring them.
Now, conversations will be approved or blocked by people appointed by the Trump Administration, some of them political operatives.
The information about the "administrative state" that impacts our lives constantly is under these controls. They also cover much of the data through which we understand our world and our lives.
In January, according to the Washington Post: "Trump called the government's job numbers 'phony.' What happens now that he is in charge of them?"
Some of us may feel less comfortable with Trump people controlling this information flow. But actually a surge in these controls has been building in the federal government and throughout the U.S. culture for two decades or more.
In many entities–public and private, federal, state, and local–those in power decree that no one will talk to journalists without notifying the PIO. Congressional offices even have the restrictions.
They are convenient for bosses. Under that, oversight staff people are unlikely to talk about all the stuff that's always there, outside of the official story.
Beyond that, PIOs often monitor the conversations and tell staff people what they may or may not discuss. Frequently agencies and offices delay contacts or block them altogether. An article on the Association of Health Care Journalists website, advising journalists about dealing with the Department of Health and Human Services, says, "Reporters rarely get to interview administration officials…"
Remember, those HHS people journalists can't talk to are at the hub of information flow on what works and doesn't with Obamacare, Medicare, and Medicaid. Or they know whether there are other perspectives on the numbers the agency publishes. Not to speak of the understanding about food and drugs, infectious disease, and medical and health policy research. Many of them could quickly stun us with the education they could give, if they were not gagged.
Another fact that gives pause is these restraints are just for journalists. There are no special rules or offices to stop staff people from having fluid communication with lobbyists, special interest groups, contractors, people with a lot of money, etc.
Fifty-three journalism and open government groups wrote to President Obama asking him in December 2015 to lift the mandate that PIOs be notified of contacts and the related restrictions in federal agencies. We met with people in the White House to leave that message for the President. A year ago we pleaded in an editorial that Obama not leave these constraints in place, given the authoritarian rhetoric on the campaign trail and the fact no one can know how these controls will be used in one year or 20 years.
We wonder how former Obama officials feel now about their medications, given that FDA officials can't talk without Trump controls.
But is it ever even rational to just believe staff people who are under such coercion?
Some journalists –- given our proclivity for believing we always get the story — profess to not be concerned about the PIO controls, saying people on the inside will leak. But do we have any sense of how often that happens? Do we have a 75-percent perspective on an entire agency, or a 2-percent? Nobody leaked when EPA staff people knew that kids in Flint were drinking lead in water or when CDC had sloppy practices in handling bad bugs.
Meantime, we have much more to worry about than just the gagged feds. In surveys sponsored by the Society of Professional Journalists, over half of political and general assignment reporters around the country said their interviews must be approved at least most of the time. Seventy-eight percent said the public is not getting the information it needs because of barriers imposed on reporting and 73 percent said the controls are getting tighter.
Education and science reporters cited similar controls.
Perhaps most chillingly, 56 percent of police reporters said they can never or rarely interview police officers without involving a PIO.
Almost 80 percent of police PIOs said they felt it was necessary to supervise or otherwise monitor interviews with police officers. Asked why, some PIOs said things like: "To ensure that the interviews stay within the parameters that we want."
However people in power characterize it, censorship is a moral monstrosity. It leaves people on the inside to control information with their own ideas and motivations. It debilitates all of us with a lack of understanding or, just as bad, skewed information. It takes away trust in our systems. It puts democracy itself in question.
Understandably in shock at President Trump's attacks on the press, some feel these PIO controls are not a primary priority. Actually, this era makes it clearer than ever why we don't need to leave these networks of controls to people in power.
–Kathryn Foxhall
Speech by Kathryn Foxhall to the D.C. Open Government Summit
The D.C. SPJ Pro Chapter co-sponsored the D.C. Open Government Summit on March 14.
An annual Sunshine Week event held at the National Press Club, the session is led by the D.C. Open Government Coalition.
Below are the remarks given by the SPJ Chapter's Recording Secretary, Kathryn Foxhall.
The last 20-25 years have seen a surge in entities prohibiting employees from speaking to reporters unless they notify the authorities, usually the public information officers.  Related are all kinds of blockages, delays, listening in, and manipulation to ensure the public gets nothing beyond the official story.
SPJ has lead the fight with letters to the presidents with as many as 60 groups signing and a visit to the White House to leave the message for President Obama.
Seven SPJ-sponsored surveys found the controls are just pervasive in many areas, in state and local government, schools, scientific organizations, and, chillingly, police departments.
Censorship is a monstrosity. Period.
Environmental reporters went to EPA repeatedly complaining about blockages.
Then, it turned out, EPA staff members knew about little kids drinking lead in water for months.  While the press could not talk normally to staff.
These restrictions are not separate or overridden by the mind-scrambling rise of a President who calls the press the enemy. For the Feds, the web of message control, intense and entrenched over the last two to three presidencies, is now powerful indeed.
And it belongs to President Trump and his political operatives.
We urge all Freedom of Information groups to take this on, even if news outlets don't talk about it. The issue is equal to and enmeshed with access to records and open meetings.
Certainly D.C. needs attention.
The Metro Authority, for example, has a fierce prohibition against speaking to reporters right on its website.
So–apparently–the media let me get on those trains without telling me their reporting is constrained, evidently controlled to a significant extent by Metro itself.
And some media outlets place these restrictions on their own staff.
That's one of the first things an Obama Administration person threw in our face in 2009-2010.
Censorship hides many things and will inevitably hide horrific things.
Please join us.
Journalism training
EIJ News–Deadline April 19 at midnight
Columbia Journalism School Student Fellowships–Deadline June 5
https://www.spj.org/c-grant-students.asp
Solutions Journalism Workshop: How to provide readers with ways to engage, not just read
You think news fatigue is a concept concurrent with the new Trump administration in Washington? If anything, the campaign season and the post inauguration news content has only driven higher the amount of information citizens – both journalists and news consumers – must process to stay informed.
Attendees at a Solutions Journalism (http://solutionsjournalism.org/ ) workshop co-hosted by the SPJ DC Pro Chapter at the Northwestern University Medill School of Journalism campus on G Street Feb. 23 came away with a fresh perspective on one way to address the information overload. "Rigorous reporting about how people are affected by social programs" is the primary goal of the Solutions Journalism technique, according to Samantha McCann, Solutions' director of communities, who led the workshop. It is a practice, not a movement. The reporting is not just about a person, but provides a response to a problem by explaining how it arose and citing available evidence of results achieved when people begin to work on solutions to the problem. It extends to an examination of the effectiveness of the solutions, not just providing evidence of intentions. It produces insights that can lead others to want to respond as well. It avoids reading like a puff piece or advancing a particular advocacy message.
News fatigue can lead to "learned helplessness" and a desire to just tune out the information, McCann said. This isn't a recent problem, as this article in Columbia Journalism Review from 2008 attests ( http://archives.cjr.org/feature/overload_1.php ). The article cites a 2007 AP-commissioned survey about the information overload phenomenon among younger readers: "The more overwhelmed or unsatisfied they were, the less effort they were willing to put in." As McCann said in her presentation, "When people have a low sense of efficacy, anxiety-inducing messages lead to defensiveness, not change." For example, dire warnings can reduce belief in global warming.
But, she said, evidence suggests that when people think something can be done about a problem, they are more receptive and attentive to the information they are reading.
So, some pointers for reporters looking to "do" solutions journalism. When you identify an issue of concern, define it as precisely as possible. It can be a very local issue, or one that is "catching on" in a larger setting. Identify who is working to reverse the problem. Identify those who are doing better in a social sense because of the response to the solution to the problem. Search peer-reviewed academic papers, talk to academic experts, tap large data sets, talk to people involved in implementation, query foundations or academic or interest groups – ask the CEOs what they'd accomplish with enough money.
Keep your audience engaged when you write your stories by making them read like a mystery novel. Make it compelling with a "howdunit" narrative style using a step-by-step structure. These won't be the low-hanging fruit types of stories, but they can produce a more engaged citizenry if readers begin to feel they can make a difference after having read a "solutions" story.
Check out the database of Solutions Journalism stories for examples to model your coverage on: http://storytracker.solutionsjournalism.org/
–Amy Fickling
FOI Study
The Knight Foundation has released a study on Freedom of Information. The study is based on a survey of 300 individuals connected to journalism in various ways. The study was conducted by University of Arizona journalism professor David Cuillier.
You can read the study here: https://www.knightfoundation.org/articles/a-shadow-on-freedom-of-information
Calendar of Events
April  7-8
SPJ Region 2 Annual Conference – Hosted by Elon (NC) University. For tickets, see: http://bit.ly/2kxex4D Contact Dr. Anthony Hatcher, ahatcher@elon.edu, or at 336-278-5774 or Colin Donohue at cmdonohue@gmail.com
April 19
SPJ-DC Roundtable on Anonymous Sources: An Ethical Minefield 6:30 p.m. to 8:00 p.m. at the D.C. Bureau of the New York Times 1627 I Street, NW, Washington, D.C. 20006–Event is sold out, but a waitlist is available: http://bit.ly/2mq4uUQ
June 13
Annual Dateline Awards/Hall of Fame Dinner at the National Press Club. Reception 6 p.m., dinner at 7 p.m. HOF Chair is Julie Asher (jasher@catholicnews.org). We will honor 3 outstanding journalists who have spent at least 25 years working in Washington media. Contact HOF Nominating Chair Steve Taylor (juxta747@gmail.com) for any names you wish to submit for consideration. Volunteers are needed to assist with preparations for the event. Contact Julie Asher if you are interested in volunteering.
CHAPTER PROGRAM Chair, Jonathan Make, 202-872-9200 or at press@warren-news.com
SPJ-DC Leadership
President: Kathy Burns
Vice President & Program Chair: Jonathan Make
Treasurer: Amy Fickling
Recording Secretary: Kathryn Foxhall
Immediate Past President: Julie Asher
Directors
Jim Asendio
April Bethea
Eric Falquero
Elizabeth Grisham
Alice Ollstein
Ex-Officio
Sue Kopen Katcef – SPJ Vice President for Campus Chapter Affairs
Andy Schotz – SPJ Region 2 Director
Other Officials of Note
Stephenie Overman – Freelance group chair
Joe Starrs – Local student liaison committee chair
Steve Taylor – HOF nominations committee chair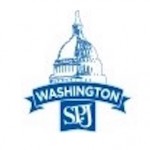 Webmaster and Newsletter Editor: Elizabeth Grisham
Deadline for submitting copy for next newsletter: April 20
Email copy to Newsletter Editor, Elizabeth Grisham at: egrishamspj@gmail.com