Vol. 2, No. 2 February 2017
Inside this issue: 
L.A. Times' Sarah D. Wire discusses covering California's congressional delegation
SPJ Dateline Awards competition now accepting applications
Post-election media landscape event
Registration open for 2017 SPJ-DC job fair
National SPJ to host leadership training workshops
What works in D.C.? Solutions journalism in your newsroom
Cops and cameras: Complexities of body-worn camera usage and access
SPJ-DC and D.C. Open Government Coalition co-sponsoring Sunshine Week program
Seeking professional journalists to mentor working students
Throw your hat into the ring!
Calendar for Upcoming DC SPJ chapter events
L.A. Times' Sarah D. Wire discusses covering California's congressional delegation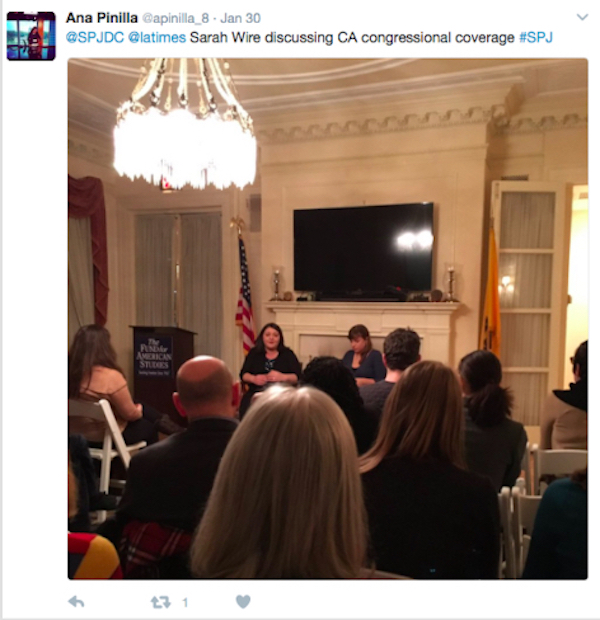 Sarah D. Wire describes herself as a one-person bureau here in the nation's capital and she probably has one of the biggest beats of any reporter here – she covers California's congressional delegation for the Los Angeles Times. With 55 members on the Hill, it is the largest delegation of any state.

She joined the Times in 2015 to cover the delegation after covering politics in Washington for the Arkansas Democrat-Gazette. She has been a statehouse reporter for the Arkansas Democrat-Gazette and Associated Press bureaus in Idaho and Missouri. Wire, a Colorado native, is a graduate of the University of Missouri. She was on the team of Times journalists whose coverage on the San Bernardino massacre won a 2016 Pulitzer Prize.
In Q-and-A fashion, Wire talked about how she approaches her job, what her challenges are and she shared some reporting tips. She offered a little advice for journalism today with a crowd at The Fund for American Studies (TFAS)  the evening of Jan. 30. Alice Ollstein, a director on the SPJ-DC chapter board, posed the questions; and later Wire took a few questions from the audience.
The event was co-sponsored by the SPJ-DC chapter and Journalism and Women Symposium (JAWS). Hosting the event was Joe Starrs, a former SPJ-DC officer and the director of Institute on Political Journalism of TFAS.
Before she got to Washington, Wire said, covering the statehouse in Arkansas and elsewhere really prepared her for her current job, though this beat "feels like I'm covering an entire branch of government." The Times has another reporter, she said, who covers Congress.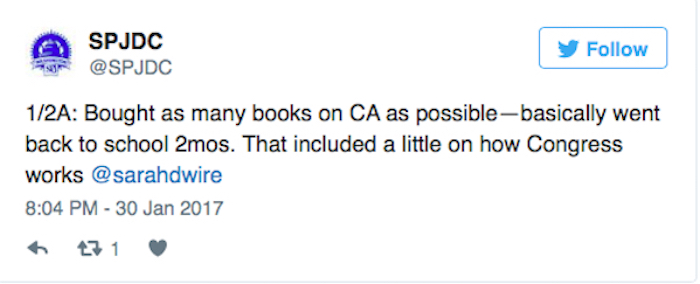 Wire joked that she was secretly happy Republican Rep. Kevin McCarthy didn't get the House Speaker post because it would have been "just one more thing to do!" Instead, Wisconsin Republican Paul Ryan was picked in November 2015 to fill the spot in the new Congress; McCarthy was elected House majority leader.
Before she got the Times job, she'd never been to California. When she went there to interview for the job, she said, she learned the state "lives up to every stereotype and breaks every stereotype."
One big challenge is "staying focused (with) so much news happening right now" with the new Trump administration. It's hard to remember what people "were angry about last week," she said.
With daily news coming out of confirmation hearings on Cabinet nominees and President Donald Trump's refugee ban and a flurry of other executive actions, she thinks the majority of work on one hot-button issue – the GOP's proposed repeal and replacement of Obamacare – "is going to happen behind the scenes."
She checks in with each member of California's delegation on a regular basis, plans coffee with each one of them quarterly, and keeps a spreadsheet on each one to note how they vote and their committee work, but also adds some personal information that could make a great feature or offer insight into the delegation member for readers. For example, she said, Republican Rep. Dana Rohrabacher at 68 is a serious surfer and Democratic Rep. Grace Napolitano "makes an amazing guacamole." Such details "make these people human," she added.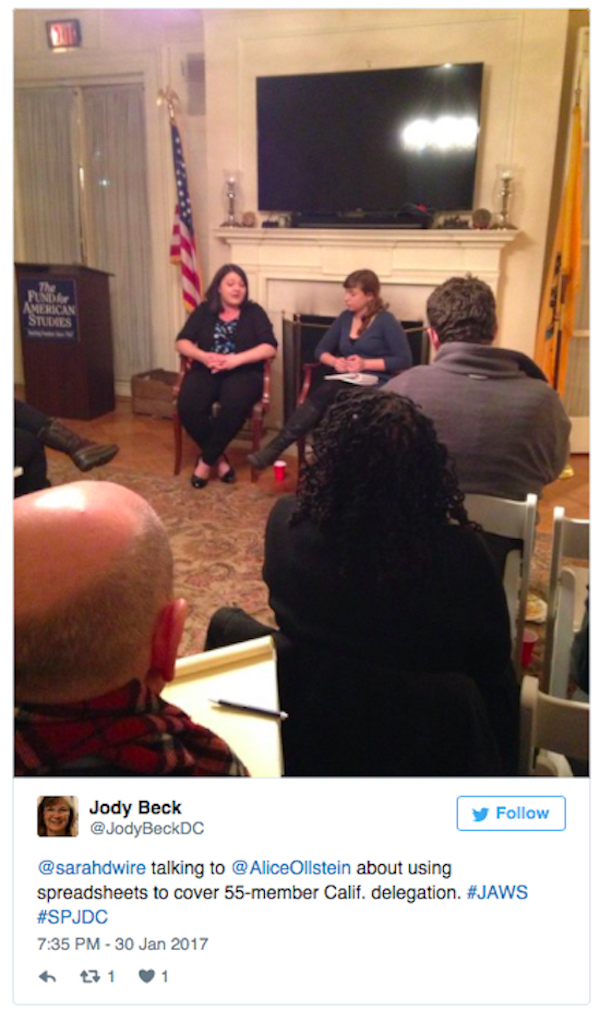 When members of the delegation have big news, Wire also urges them to break the story in the Times – their hometown paper –not a Washington media outlet, like Politico.
"People want to know not just how their representative or senator vote[s] but why," she noted.
Wire also makes a point to respond to as many readers as possible. "Readers of the L.A. Times are the most vocal readers I've ever had. Not all negative, not all positive," she said. If a reader has a valid comment or criticism – not just some "ad hominem" attack – "I try to take time to respond."
When asked her take on the anti-media sentiment in the country that is palpable and growing, Wire said, "We have to do a better job explaining how we do our job and continue the conversation as much as possible." She also reminded the reporters in the audience to "be conscious of your own opinion" and keep it out of the story. Also, she makes sure she talks to enough people, too, to make sure she has balance.
Contact with readers has led her to keep a spreadsheet on them, too, so that when she is working on a story and she needs to talk to Californians who might have firsthand knowledge of an issue – such as how the Affordable Care Act is working on the ground – she can query those readers and see if they can answer her questions or know someone who can.
"It's a good way to bring real voices into reporting," Wire said.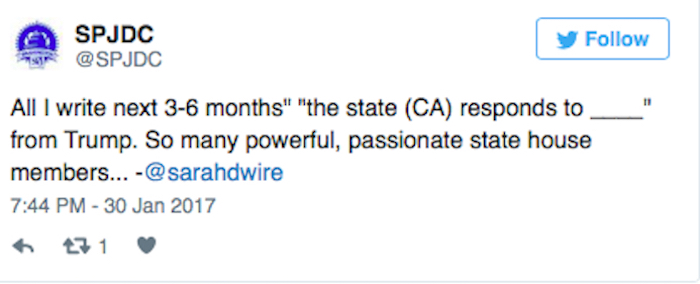 –Julie Asher
SPJ Dateline Awards Competition Now Accepting Applications
The Washington, D.C., Pro Chapter of the Society of Professional Journalists is now accepting applications for its 2017 Dateline Awards Contest. As always, please remember that you do not need to be a member of SPJ to enter your work. But SPJ has many benefits for professional journalists. For full details, click here: ​About SPJ. The contest is open to both print and broadcast media outlets throughout the D.C. metropolitan area. This includes the District of Columbia, Virginia and Maryland. Dateline Awards submissions are now online through the ​BetterBNC website​ under "2017 Washington, D.C. SPJ Dateline Awards."
Entries will be judged by journalists and related professionals whose primary assignments do not include local news. These judges will nominate entries worthy of the Robert D.G. Lewis Watchdog Award, which is presented to an applicant in any award classification whose entry best exemplifies journalism aimed at protecting the public from abuses by those who would betray the public trust.
All entries must be submitted online by March 2, 2017.
Awards will be presented to the winners at the chapter's Hall of Fame/Dateline Awards dinner ​June 13, 2017, at the National Press Club.
To enter
●      Go to the FIND CONTEST page at BNC ​and locate "2017​ Washington, D.C. SPJ Dateline Awards."​
●      Create an "Open Call Contestant" account and submit your entries.
All entries must be submitted online. ​Please note that audio/video files can't be uploaded to the BNC site.​ You must submit a separate URL link to a site such as SoundStream, YouTube or your broadcast outlet's site with your entry.
We have a PowerPoint guide at ContestCall​ to help you with the log in and entry process.
Entry Fee:​  $30. (Note: A fee of $2 per entry is added to online payments.)
If you have any questions about the competition, email Contest Coordinator Joyce Wang at ​yuting.​wang​07@gmail.com​. We look forward to receiving your entries.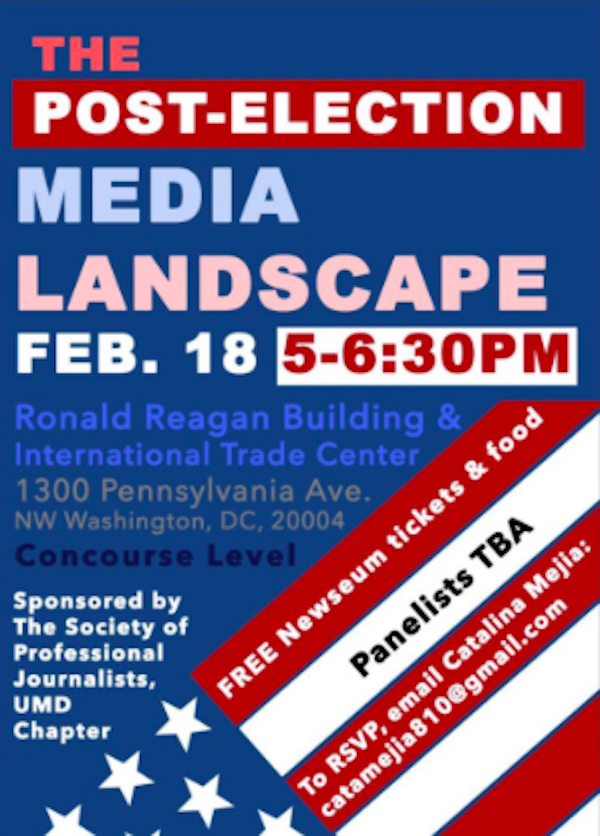 Registration open for 2017 SPJ-DC job fair
Dear members,
We have just opened registration for job seekers to attend the 2017 Washington, D.C. Journalism Job Fair March 25 at the Georgetown University School of Continuing Studies, 640 Massachusetts Ave., NW, Washington, D.C. 20001. You can register for our early bird-rate of $10 until Friday, March 3. Register here: http://bit.ly/2kxex4D
The regular registration rate of $15 will be offered until Friday, March 17. We will accept walk-ins for $20 the day of the fair. We are offering free registration for any members who are unemployed. Please write to dcjournojobfair@gmail.com for more information on this.
We hope you'll share this with your networks. This annual fair has helped our members find new jobs and make valuable connections with hiring managers for some of the best journalism companies in the D.C. area.
Thank you all for your help! We will soon follow up with a call for volunteers to help out the day of the fair.
–Julie Asher
National SPJ to host leadership training workshops
Want a chance to learn more about SPJ in an informal setting conducive to working with national leaders, interacting and networking with fellow chapter members like yourself?
Then give some thought to applying to the annual workshops provided by SPJ in conjunction with the Ted Scripps Leadership Institutes.  The next one is slated for April 28-30, in Kansas City, Missouri.  And a future one for 2017 will be slated for Region 1with dates announced sometime later in late summer or early fall.  Recent workshops were held in Las Vegas, Nevada (Dec. 2-4, 2016) and in Dallas, Texas (Feb. 10-12, 2017).
Application information and deadlines for submissions for the Kansas City program will be posted online mid-February.
For any specific questions, contact Tara Puckey, SPJ associate executive director, at tpuckey@spj.org or at 317-920-4784.
Any SPJ local member in good standing (dues payment is current) is encouraged to apply, including those who may currently serve on a board or are interested in serving on a board in the future.  DC Chapter members who attended in 2016 included Kathryn Foxhall, recording secretary, and Daniel Young, a former director.  National SPJ officials encourage chapters to suggest 2 to 3 members to attend. The guidelines, however, emphasize that "a submitted application does not guarantee an invitation to this program," with all submissions reviewed by SPJ officials.
Individual participants are responsible for the travel costs to and from the workshop sites, but lodging and meal costs are provided.  Once selected, an individual participant must pay $50 to confirm their attendance. If accepted, you must participate in all training sessions and/or activities held during the training institute.
The program, founded in 1996, is funded through a generous grant from the Scripps Howard Foundation.  It is named after Ted Scripps, grandson of the founder of the E. W. Scripps Co. The goals of the institute training workshops are to provide journalists with the tools to make their local SPJ chapters stronger and to strengthen a network of support for leaders at the local level.
Various goals of the program include:
Helping participants to assess their own individual leadership style, with its strengths and weaknesses, and to learn how to successfully interact with others.

Focusing on the role of a leader in recruiting, developing and rewarding talent among the chapter's membership.

Understanding the importance of building a sense of community among chapter members and seeing how that can be accomplished.

Studying the dynamics of group decision-making and how leaders can learn to help groups make better choices.

Gaining new insights on how to engage and to motivate peers.

Brainstorming on how to effectively manage responsibilities while remaining focused on important goals for the chapter.
What Works In D.C.?: Solutions Journalism In Your Newsroom
Join the Society of Professional Journalists D.C. Pro Chapter Thursday, Feb. 23, at 6:30 p.m. to explore the ins and outs of solutions journalism methodology with Samantha McCann of the Solutions Journalism Network. (http://solutionsjournalism.org/) The event is hosted by:
MEDILL News Service (Metro Center stop)                                                                             1325 G Street Northwest
#730
Washington, DC 20005
McCann will go over what makes a successful solutions story and what resources are available to journalists to support and enhance this work.
Sample story ideas will be distributed to registered participants several days before the training.
This is also an opportunity to connect with other journalists interested in this approach. Editors from POLITICO, AFRO and elsewhere will be given the opportunity to identify what they look for when hiring freelancers.
Many thanks to our host, The D.C. Bureau of MEDILL News Service! The event is free and includes snacks and beverages, but space is limited. You must register beforehand on Eventbrite and arrive no later than 6:30 p.m. Questions? Contact SPJ D.C.'s Eric Falquero: eric@streetsense.org.| @EricFalquero
Cops and Cameras: Complexities of Body-Worn Camera Usage and Access
Join the Society of Professional Journalists D.C. Pro Chapter and the Georgetown Master's in Journalism Program on March 16 from 6:00 p.m. to 8:00 p.m. to learn how to improve accuracy and understanding as you report on policing.
The event will be held at:
640 Mass. Ave NW
Gallery Place/Chinatown Metro
Washington, DC 20001
Panelists include:
Robert Becker of D.C. Open Government Coalition

Rhanda P. Dormeus of the Coalition of Concerned Mothers

Commander Ralph Ennis of the Metropolitan Police Department

Emily Voshell of the D.C. Public Defender Service

Moderated by Noah Gimbel, editor-in-chief of the Georgetown Law Journal.
Light refreshments provided. Discussion 6:30 p.m. – 7:30 p.m.
RSVP via Eventbrite.
Full details: http://spjdc.org/event/body-worn-camera-sunshine-week-dc-2017/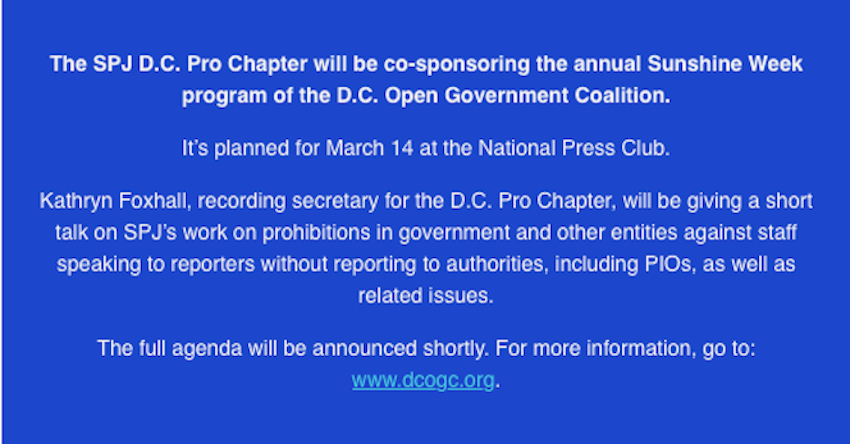 Seeking professional journalists to mentor working students
For over a year, SPJ-DC board along with former chapter member Michelle Goldchain have volunteered as mentors for students in my nonprofit newsroom at Street Sense Media.
These are journalism, English and sociology majors, usually undergraduates, who work as unpaid part-time reporters to cover everything that poverty intersects with for Washington residents. We reach 11,000 readers in print every two weeks and more online.
Connecting with journalists in the field is crucial to helping these students grow professionally: learning what will be expected from them in the real world and receiving specific feedback from more sources than just me (our only editorial staffer).
I'm seeking more chapter members interested in giving back to these aspiring students working for a good cause. At the minimum,  this entails being paired with one student for 3 points of contact throughout their work on a single enterprise story: a call or coffee to get to know each other and consult on how to approach their topic;  a read and markup of their first draft of that story; and welcoming them to email you once in between those steps for advice.
If you hit it off with your mentee, you can of course be in touch more often,  stay in touch,  invite them to shadow you at work for a couple hours,  etc. But that's not expected.
Thank you so much for considering. Please contact Eric Falquero at eric@streetsense.org if you would like to get involved.
–Eric Falquero
THROW YOUR HAT IN THE RING!
Like all volunteer organizations, we welcome involvement by our members, who generously donate their time, their talents, their energy, their organizational skills and their new ideas.  One way to channel all those attributes is to decide to run for an office on the DC Chapter Board of SPJ.  Any member in good standing (meaning your local dues and national dues are current) is eligible to run for one of these slots.
In February, the Chapter president names a Nominating Committee and its members to prepare a slate of candidates for the upcoming elections in April.
Positions on the full board include:  president, vice president, recording secretary (who handles Minutes), corresponding secretary (who is responsible for membership), the treasurer and six directors.
Any candidate for president must have spent at least one year on the chapter's governing board, though it is not mandatory that it be for the current board year.
The term for officers on the executive board is one year. With the directors, however, 3 of the 6 directors are elected each year for two-year terms.  When there is a vacancy during the year, the board appoints a replacement director, and that person serves until the next election and installation of officers.  New board members and returning incumbents are sworn in at the Annual Hall of Fame Dinner, which will be held this year on Tuesday, June 13, at the National Press Club.
The board generally meets one night a month to discuss chapter business.  If a member cannot attend, he or she notifies the recording secretary and requests an "excused absence."  Any board member who has three unexcused absences from regularly scheduled board meetings may be asked by the board to step down.
If you are interested in being considered as a candidate, notify the chairman of the chapter's Nominations Committee at the chapter's email: spjdcchapter@gmail.com. If you have any questions on the process, please contact the Chapter president Kathy Burns at: burnskathy1036@gmail.com.  Deadline for consideration is March 15. Please include in your submission the candidate's name, office sought, contact details and a short career bio that also includes SPJ involvement.  You can nominate yourself or a colleague. (There will also be room on the actual ballot for write-ins.)
The Committee will prepare a slate of candidates, verify a candidate's status as a "qualified" candidate (based on the current payment of dues), and then present the completed list to the chapter board. This vetted list is then formulated into the Chapter's election ballot, which will be distributed online (or by mail to those that request it).   Under the chapter's Bylaws, the ballots must be sent out "no later than April 15 and returned by May 1."
The Nominating Committee will then tally the votes and announce the outcome via email, with notification also provided in the chapter's newsletter and on the website.
Kathleen Burns, chapter president
CALENDAR for UPCOMING DC SPJ Chapter EVENTS
Feb. 21
SPJ-DC Freelance Committee Luncheon 12:00 p.m. at the National Press Club. RSVP to Stephenie Overman.
Feb. 23   
"Media Rethink:  SOLUTIONS JOURNALISM In Your Newsroom," from 6 to 8 p.m., with light refreshments. The event will be hosted by the Medill/Northwestern University Washington Journalism Program, 1325 G St., NW, Suite 700, Washington, D.C. Near Metro Center. Samantha McCann of the Solutions Journalism Network (SJN) will introduce what solutions journalism is, walk participants through resources for doing it well and provide workshop participants with example stories to demonstrate its application. Contact Eric Falquero, eric@streetsense.org. RSVP via Eventbrite.
March 14
Sunshine Week Open Government Forum, 6:00 p.m. to 8:00 p.m. at the National Press Club. Free refreshments, but registration is required. See: www.dcogc.org
March 16
"Cops and Cameras: Complexities of Body-Worn Camera Usage and Access," 6 – 8 p.m. in conjunction with SPJ National's observance of "Sunshine Week" in government. Learn how to improve accuracy and understanding as you report on policing. Panelists include Robert Becker of D.C. Open Government Coalition, Commander Ralph Ennis of the Metropolitan Police Department, Emily Voshell of the Public Defender Service for the District of Columbia, and others. Moderated by Noah Gimbel, editor-in-chief of the Georgetown Law Journal. Hosted by the Georgetown Master's in Journalism Program, 640  Mass. Ave., NW, Gallery Place/Chinatown Metro. Contact Eric Falquero, eric@streetsense.org. Event is FREE. RSVP required via Eventbrite.
March 25
Annual Media Job Fair (registration fee required), held at Georgetown University, 640 Massachusetts Ave., NW, Washington, DC, from 10 a.m. to  2 p.m. Fee. Gallery Place Metro. The event is organized by the Georgetown University Master's of Professional Studies in Journalism program along with the DC Chapters of the National Association of Hispanic Journalists, the Asian American Journalists Association, the National Lesbian & Gay Journalists Association, the Society of Professional Journalists, the Washington Association of Black  Journalists and the Journalism and Women's Symposium. Any employers who would like to participate can get further information by contacting Julie Asher.
April  7-8
SPJ Region 2 Annual Conference – Hosted by Elon (NC) University. For tickets, see: http://bit.ly/2kxex4D Contact Dr. Anthony Hatcher, ahatcher@elon.edu, or at 336-278-5774 or Colin Donohue at cmdonohue@gmail.com
June 13, 2017  
Annual Dateline Awards/Hall of Fame Dinner at the National Press Club. Reception 6 p.m., dinner at 7 p.m. HOF Chair is Julie Asher (jasher@catholicnews.org). We will honor 3 outstanding journalists who have spent at least 25 years working in Washington media. Contact HOF Nominating Chair Steve Taylor (juxta747@gmail.com) for any names you wish to submit for consideration. Volunteers are needed to assist with preparations for the event. Contact Julie Asher if you are interested in volunteering.
President: Kathy Burns
Vice President & Program Chair: Jonathan Make
Treasurer: Amy Fickling
Recording Secretary: Kathryn Foxhall
Immediate Past President: Julie Asher
Directors
Ex-Officio
Sue Kopen Katcef – SPJ Vice President for Campus Chapter Affairs
Andy Schotz – SPJ Region 2 Director
Other Officials of Note
Stephenie Overman – Freelance group chair
Joe Starrs – Local student liaison committee chair
Steve Taylor – HOF nominations committee chair

Webmaster and Newsletter Editor: Elizabeth Grisham
Deadline for submitting copy for next newsletter: March 20
Email copy to Newsletter Editor, Elizabeth Grisham at: egrishamspj@gmail.com