Vol. 2, No. 1 January 2017
Inside this issue:
Anniversary bios
Comings and goings
The fight goes on for openness in government
Chapter's annual dinner emcee to announce along Inaugural Parade route
2017 Dateline Awards call for entries
From the president's desk
Media competitions and deadlines
Vote on bylaws
Invitations to renew membership
Calendar of events
Board contact information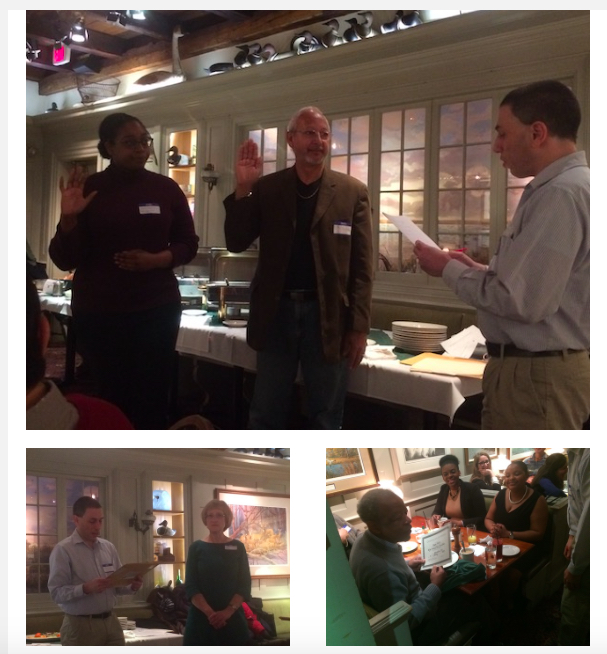 Clockwise from top: SPJ Region 2 Director Andy Schotz (right) swears in new SPJ-DC board members April Bethea and Jim Asendio; Longtime SPJ-DC member and leader Reggie Stuart holds his certificate; Schotz presents an award to longtime member Karen Bune.
Chapter honors longtime members and welcomes two new directors at January event at Clyde's in Alexandria, Va.
Congratulations to D.C. chapter members who are celebrating various anniversaries as SPJ members.  We appreciate their loyalty to the organization and their dedicated involvement.
Those marking 5 years with the organization include:  Susan Sala, Dan Bauman and Daniel Macy. (National SPJ does not provide a longevity pin for this occasion.)
At our Jan. 7, 2017, "Kick Off the New Year" event, Karen Bune received a special national longevity pin from our Region 2 Director Andy Schotz, and Reggie Stuart received a certificate of appreciation. Chapter leaders also awarded Camille Bohannon a pin, but she was unable to attend. (Bios are shown below for those members who wished to provide them.)
At the function, Schotz also swore in two new chapter board directors: Jim Asendio and April Bethea, and said farewell to board member Al Leeds who is moving to Florida (see stories on the three, elsewhere in the newsletter). Schotz also asked Stuart, in his role as president of the SDX Foundation of Washington, D.C., to present three students who were awarded scholarships from the DC Chapter in 2016.  The three students who were awarded scholarships from the foundation in 2016 were:  Brandi Montgomery and Miesha Miller, students at Howard University, and Robin Eberhardt, a student at The George Washington University.
Karen Bune                                     15-Year SPJ Member
A graduate of American University with a BA in American Studies and an MA in the Administration of Justice, Karen Bune is currently employed as the Patient Relations Manager at Inova Alexandria Hospital.  She also serves as an adjunct professor, teaching both graduate and undergraduate courses, at George Mason University and at Marymount University. In 2016, Bune received Marymount's Adjunct Teaching Award, and in 2011, she received American University's Notable Alumni Award from the School of Public Service. In addition to her hospital public relations work, she has written extensively for law enforcement publications and in the field of criminal justice, domestic violence and public policy.  In 2009, she was honored with the Police Chief's Award from the Prince George's County Maryland Police Department.
Todd Gillman                             20 -Year SPJ Member
Todd Gillman has been the Washington Bureau chief of the Dallas Morning News since 2009. He started his career at the News as an intern in 1989, and was soon on the major disaster beat–covering plane crashes, refinery explosions and elections.  He has covered city hall, and state and local politics.  In 2003, he joined the Washington bureau, and in 2014, he was elected to a three-year term on the White House Correspondents Association board.  Gillman has also served as president of the Regional Reporters Association, representing D.C. correspondents from news outlets nationwide.  At SPJ, he has served as president of the national Sigma Delta Chi Foundation (and remains an SDX director); as Region 8 director; and as president of the Dallas SPJ Chapter.  His wife, Lesli Marcus Gillman, is a reformed journalist who teaches at Bethesda-Chevy Chase High School. The couple have two college-age children and a third in 10th grade.  Gillman holds a BA in international studies from John Hopkins University and an MA in Public Policy from Harvard University.
John Edward Leonard          40-year SPJ Member
John Edward Leonard joined SPJ/SDX as an undergraduate student at Point Park University in Pittsburgh, which he attended on a scholarship sponsored by the Pennsylvania Newspaper Publishers Association.  Leonard had the challenge and the pleasure of covering coal country strikes, escaped convicts and county fairs as a small-town newspaper reporter, editor and photographer and as a stringer for UPI.  After service in seven Southern states as a VISTA Volunteer, he headed north and earned an MA in Journalism at Penn State University.  As a freelancer in the early '80s, he covered the formation and inaugural meeting of the Native American Journalists Association for Editor & Publisher magazine.  He has continued to research, report and write on a variety of social and human service issues and approaches. Leonard currently freelances and operates a sole proprietorship, Communications Strategies & Management', in Silver Spring, Maryland.  As time allows, he conducts pro bono projects for nonprofits and public-private partnerships.
Camille Bohannon                     40-year SPJ Member
Camille Bohannon's journalism career began in college, at New Mexico Highlands University, in Las Vegas, New Mexico.  Through a Journalism 101 course, she got a job as Assistant Program Director at a local cable TV station.  She also worked as a weekend radio disc jockey.  After graduation, she moved to Washington, D.C., where she continued the music personality work at WWDC AM and WETA FM.  She married radio newsman, Jim Bohannon, (an Army vet) in 1970.  Five years later, she was hired by WTOP News Radio to join Jim on the air as the station's morning-drive newscasters.  Their high ratings held up until the 1991 Gulf War. "The Bohannons" also anchored together WRC in Washington and WCFL in Chicago. A 1987 divorce and various staffing changes found Camille working back in Washington as a news anchor for UPI Radio and then NBC/MUTUAL Radio. In 1992, she became an overnight news anchor for the AP Radio Network, where she stayed until her 2008 retirement, after a 41-year broadcasting career.
Camille has received numerous honors, among them a 2002 Edward R. Murrow Award as part of AP Radio's coverage of 9/11; the 2011 Peter Hacks Memorial Award "for distinguished contributions to the broadcast industry," and "The Distinguished Highlands University Alumni Award'' in 2008 for her body of work in radio and TV.
She was the only female announcer for the 1976 Bicentennial Parade in Washington and she was the first woman to do a sportscast on Armed Forces Radio. She speaks four languages, sings in three choirs and enjoys a volunteer job at her Methodist Church in Montgomery Village, Maryland.
Other 40-Year SPJ members include: Mary Elizabeth Crowley, Christi Harlan and John C. Henry
Reggie Stuart                               45-year SPJ member
A native of Nashville, Reggie Stuart attended Tennessee State University. He began his career as a reporter with the Nashville Tennessean for two years and then switched to the local ABC affiliate, WSIX TV for one year. In 1971, he moved to New York City to get his MS in Journalism from Columbia University as an NBC Journalism Fellow.  Stuart freelanced for two years and then joined the New York Times as a business reporter in 1974.  He spent 13 years in New York City and then was sent to the Detroit Bureau as a correspondent and later became the bureau chief and chief automotive correspondent.  He later moved to Atlanta and was the bureau chief, and then to Miami as the bureau chief for the Caribbean and finally moved to the Washington, D.C. bureau as a correspondent.  In 1986, he left the New York Times and became the Washington, D.C., bureau's national affairs correspondent for the Philadelphia Daily News.  In 1988, he covered the US national elections and joined the Knight Ridder Washington bureau from 1990 to 1996. When the company merged with McClatchy, he served as their chief recruiter. He retired in 2013.
Stuart joined SPJ in 1971, and has been an active member ever since. He is a past national SPJ president and a recipient of the Wells Key. He is also president of the SDX Foundation of Washington, D.C. Its function is to recruit scholarship applicants, review their paperwork and then select college student candidates for the up to $25,000 in scholarships that the SDX-DC awards each year.
Phil Currie                        55-year SPJ member
Phil Currie retired as Senior Vice President/News in the publication division of Gannett Co., Inc. in 2008.  He was with the company 45 years, beginning in January 1964 as a reporter on The Times-Union in Rochester, N.Y.  His work on the Rochester newspaper included editorial writing, political reporting and executive city editor.  On the city desk, he directed coverage of the Attica (N.Y.) prison riots that led to a Pulitzer Prize for the newspaper.  He joined the Gannett corporate staff in 1977, was named Vice President/News for the Newspaper Division in l989 and Senior Vice President/News in 1995.  In later years, he also oversaw operations of Gannett News Service, a Washington-based wire service serving both Gannett and non-Gannett newspapers.
He earned a BA in Journalism (1962) at the University of Iowa, Iowa City, and an MA (1964) in Journalism from Penn State University.  He joined SPJ while at Iowa, and he is a past president of the Rochester (New York) chapter of SPJ.  He became a trustee of the Newseum Institute in Washington, D.C. in 2016 and serves on the Iowa Professional Advisory Board for the School of Journalism and Mass Communications and on the Board of Visitors for the Morgan State University School of Global Journalism and Communications, Baltimore, Maryland.
Comings and goings
This month, the DC SPJ chapter is happy to welcome two new members to its Board of Directors. We will also be bidding a fond adieu to two hard-working members who are stepping down to pursue other things. Their terms will run from Jan. 7 to June 14, 2017, since they are completing unexpired terms for other members who are stepping down.
The new directors are:
Jim Asendio
An experienced broadcaster for both public and commercial radio stations and networks, Jim Asendio is currently a newscast anchor for the Westwood One News Network in Washington, D.C. Prior to that, he was an anchor and reporter for the MarketWatch Business Radio Network; news director at WAMU-FM, at American University Public Radio; and news director at WLIU-FM at the Long Island University Public Radio Network.  In the commercial sphere, he has worked for stations in New York City, Los Angeles, Sacramento, Chicago and Pittsburg. He attended the Northwestern University Medill School of Journalism and is a long-time SPJ member.
April Bethea
April Bethea is a homepage producer at The Washington Post, which she joined in February 2016. She previously spent 11 years at The Charlotte Observer, in her hometown, where she worked as a reporter, online producer and digital editor.  Bethea is a past chapter officer with the Charlotte Pro SPJ Chapter and a past chair of SPJ's diversity committee. She's also an alum of SPJ's Scripps Howard training program and attended past national SPJ conventions as a diversity fellow and a Terry Harper fellow. Bethea is a graduate of the University of North Carolina at Chapel Hill.
Those who are moving on include:
Al Leeds
A native of Edina, Minnesota, Al Leeds has spent the past two years as a director on the DC Chapter Board and was a member of its Audit Committee. A graduate of Drake University for both his undergraduate degree in journalism and a master's in public administration, Leeds is a lifetime member of SPJ. He and his wife, Karen, are moving to Winter Park, Florida, where they are building a new home. Career-wise, Leeds spent 32 years at The Washington Post, in various posts with the Washington Post Writers Group, the LA Times-Washington Post News Service, and the Washington Post News Service with Bloomberg News.  He retired from the American Bar Association as manager of their public policy communication office in December. In addition, he was an assistant professorial assistant lecturer at George Washington University in 1986 and 1988.
Leeds is also stepping down as a member the national Sigma Delta Chi Foundation (SDX), where he served for 10 years. The foundation is the educational arm of SPJ and exists for several purposes. One is to provide all of the educational training offered by SPJ, such as day-long workshops called JournCamps. Another purpose is to offer grants and financial support for journalism excellence. This includes an annual $75,000 fellowship to a journalist to do a deep dive into a particularly significant matter, and it also includes support for SPJ members to attend the SPJ annual conference.  The foundation also provides grants for financial support to the Reporters Committee for Freedom of the Press and to the Student Press Center, here in Washington, D.C.
Joe Starrs
Joe Starrs, who spent two years on the DC Chapter Board, will be shifting from corresponding secretary to a new position as the chapter's chair of the Local Student Liaison Committee.  In his work life, Starrs is the director of the Institute for Political Journalism and for US Programs at The Fund for American Studies in Washington, D.C. Previously, he worked in radio, television and public relations. He formerly served as vice president of Veritas Media Group, where he produced documentaries and TV commercials.  He also provided on-camera media training for government officials and business executives. Prior to that, he worked as a senior correspondent for FCF News on Demand, a Russian news provider based in Washington, D.C., where he interviewed members of Congress, White House officials, political candidates and policy makers.  In his personal life, Starrs is the father of six daughters.
The fight goes on for openness in government
On Dec. 28, the SPJ national headquarters emailed a number of journalism and other organizations inviting them to sign a letter to President-elect Donald Trump, asking him to open media access to government in ways the Obama administration did not.
The letter notes that a year ago, a delegation representing more than 50 journalism and other groups went to the White House and "discussed communications policies, the use of public information officers (PIOs) during interviews, anonymous background briefings, prohibitions against staff members speaking to reporters without notifying PIOs, and other policies that prevent information from flowing to the public."
It notes that since that time, little has improved and urges the new administration to discuss these issues with SPJ soon.
Meantime, the Dec. 12, 2016 post, "18 Ways to Fight Censoring PIOs,"  became the most viewed post in the history of the SPJ "FOI FYI" blog, according to Gideon Grudo, SPJ's national FOI chairperson. Grudo is also a past SPJ DC Pro Chapter board member.
And, Carolyn Carlson, who has headed the seven surveys SPJ has done on the controls through PIOs, is gearing up to do a new study in the next several months.  This one will target journalism outlets themselves, asking for discussion on these restrictions.
A Scientific American article from October 2016, "How the FDA Manipulates the Media," could be a breakthrough in illustrating brazenness of agencies in getting the press to parrot their message.
The piece doesn't grapple with what may be the most basic controls: the restrictions against any staff speaking to reporters without PIO controls.
But author Charles Seife, well-known science writer and New York University journalism professor, used emails obtained through FOIA to show major news outlets acquiescing quickly to a "close hold" embargo. The restriction meant reporters weren't allowed to contact outside sources before the embargo ended on an announcement. And the agency thus took another step, successfully, in completely controlling the story.
Beyond that, there is more work proceeding in the background, including discussions between SPJ President Lynn Walsh and some prominent voices in journalism.
As news people, we can find ourselves overwhelmed in a maelstrom of assaults on journalism, including the epidemic of fake news and an elected president who has cut access for news outlets he doesn't like and poured contempt on major news groups. It's perhaps never been more important that we stand together for the public's right to know.
But our battles must include those against the restrictions that we have become used to and we often don't explain to the public, including the mandates that reporters go through the press offices, the on-background briefings and all the ensuing obstructions.
Contact Kathryn Foxhall, DC SPJ Pro chapter recording secretary and national SPJ FOI committee member, for more information or PIO resources: kfoxhall@verizon.net.
–Kathryn Foxhall
Chapter's annual dinner emcee to announce along Inaugural Parade route
Jim Bohannon, a long-time chapter member and master of ceremonies for the chapter's annual Hall of Fame and Dateline Awards dinner, will be a live announcer for the Presidential Inaugural Parade Jan. 20.
Bohannon, an SPJ member since June 1973 and a member of the National Radio Hall of Fame, has had inaugural parade announcing duties twice before, in 1977 and 2013. In 2013, Bohannon was a Presidential Inaugural Committee selection to be an on-the-street Inaugural Parade announcer. He was one of six announcers along the route, while Charles Brotman, a veteran announcer of 14 Presidential Inaugural Parades since 1957 at the time, announced parade participants from Lafayette Park, across from the White House, for President Barack Obama, Vice President Joe Biden, and other parade watchers at that location.
"I'll be the voice describing to the crowd that the 'Rockville Marching 100' is now going by, etc. I'll be at the Capitol Hill end of Pennsylvania Avenue," he said. He recalled that in 1977, he was on the second floor of the Willard Hotel, "very cushy," for announcing duties. He expects to be on a platform about 7 feet above the sidewalk this year, like in 2013.
Bohannon, who now lives in South Carolina, just renewed his contract with Westwood One, where he will continue to host on the radio "The Jim Bohannon Show," now in its 33rd year.
–Amy Fickling
SPJ Dateline Awards competition now accepting entries
The Washington, D.C., Pro Chapter of the Society of Professional Journalists is now accepting online submissions and payments for its 2017 Dateline Awards Contest. As always, please remember that you do not need to be a member of SPJ to enter your work. But SPJ has many benefits for professional journalists. For full details, click here: About SPJ DC
The contest is open to both print and broadcast media outlets throughout the D.C. metropolitan area. This includes the District of Columbia, Virginia and Maryland. Dateline Awards submissions are now online through the BetterBNC website under "2017 Washington, D.C. SPJ Dateline Awards."
Entries will be judged by journalists and related professionals whose primary assignments do not include local news. These judges will nominate entries worthy of the Robert D.G. Lewis Watchdog Award, which is presented to an applicant in any award classification whose entry best exemplifies journalism aimed at protecting the public from abuses by those who would betray the public trust.
All entries must be submitted online by March 2, 2017.
Awards will be presented to the winners at the chapter's Hall of Fame/Dateline Awards dinner June 13, 2017, at the National Press Club.
To enter
Go to the FIND CONTEST page at

BNC

and locate "

2017 Washington, D.C. SPJ Dateline Awards

."

Create an "Open Call Contestant" account and submit your entries.
All entries must be submitted online. Please note that audio/video files can't be uploaded to the BNC site. You must submit a separate URL link to a site such as SoundStream, YouTube or your broadcast outlet's site with your entry.
We have a PowerPoint guide at ContestCall to help you with the log in and entry process.
Entry Fee:  $30. (Note: A fee of $2 per entry is added to online payments.)
If you have any questions about the competition, email Contest Coordinator Joyce Wang at yuting.wang07@gmail.com. We look forward to receiving your entries.
–Joyce Wang, Dateline Awards coordinator
From the president's desk
As 2016 ends, it's time for a quick assessment of the goals the DC Chapter had set for itself and how, as a team, the members of the chapter board worked hard to make them a reality.
Appreciation goes to my predecessor as president, Julie Asher, who served from January 10, 2014, to June 14, 2016, when I was sworn in as chapter president. Asher's unfailing good humor, diplomacy, perennial optimism, sense of fairness and hard work have been an invaluable asset for the chapter and its membership.
We give thanks for Kathryn Foxhall, our recording secretary, and Elizabeth Grisham, a director, whose efforts helped us to achieve a long-elusive goal of getting our approved minutes on the website archive.  Transparency is essential for any well-functioning organization and that can be judged by our records from our meetings.  Foxhall also tackled the task of doing a mass mailing to those who did not renew local SPJ dues over a period of years, as well as a mailing to the national SPJ members who had never affiliated with the local chapters.  Retaining current members is essential to the viability of any organization, along with continually recruiting new members who generate a wealth of diverse ideas and who provide assessment of the organization's future direction.  Foxhall also is a skilled scribe who writes accurate, informative and to-the-point minutes, for which we are all grateful.
Grisham made it possible for the chapter to achieve another long-term goal for the chapter: an informative, timely and readable newsletter that comes out on a regular basis.  This is not an easy challenge! She is unflappable in the face of deadlines and demands and puts out a quality product.
To Vice President Jonathan Make, and Directors Eric Falquero and Alice Ollstein, we offer applause for their involvement, creativity and logistical talents in shepherding through 10 of our successful events for 2016, and jumping into 2017 with seven activities already on the calendar. This takes a lot of energy, enthusiasm, long-range planning and continual oversight of details.
Keeping the books can be a tedious task and it's coupled with a serious fiduciary responsibility.  Amy Fickling, the treasurer, has kept track of our money, with great attention to detail.
As the year ended, we praise various board members who served us well and are moving on to other things.  These include: Director and Assistant Treasurer Daniel Young, who has moved back to Georgia; Director and Member of the Audit Committee, Al Leeds, who is moving to a new home he and wife, Karen, have built in Winter Park, Florida, and Corresponding Secretary Joe Starrs, who is transitioning from the board to head the new Local Student Liaison Committee.
As the new year begins, we also offer a warm welcome to two colleagues who joined our board in January as directors:  Jim Asendio, a broadcaster with Westwood One News Network, and April Bethea, a homepage producer with The Washington Post.
Like the song goes, "We get by with a little help from our friends."  That would include national board member Bill McCloskey, who organized a fun trip to Nationals Park; and to Region 2 Director Andy Schotz who is always ready to lend moral support, encouragement and good advice. He also chaired the board's Annual Retreat, and oversees the myriad aspects of the annual Dateline Awards media competition. He served as master of ceremonies for our Jan. 7, 2017, function to present awards to several members and to swear in the two new board members.
As we look forward to 2017 and Chinese New Year on Jan. 28, the zodiac sign will be the Rooster. But for those of us in Washington, D.C., columnist Richard Cohen of The Washington Post says it could be "The Year of the Chicken" (Jan. 4, 2017) as the political climate shifts to a new administration and a possible parade of political sycophants admiring "the emperor's new clothes" described by Hans Christian Andersen. "Whatever poultry term you use, the year will see rather ordinary people, raised to some prominence by President-elect Donald Trump, not risk their pen and pencil sets by contradicting the president," Cohen predicted.
In an opinion column on Jan. 6, Ruth Marcus, a columnist for The Washington Post, asked, "Is it possible to cover Trump fairly?"
As journalists, we need to be wary of the "fake news" that permeates airwaves, cable channels, printed publications, and the perpetual Twitterers. We need to remain neutral but cognizant of some of the fact-free tidbits that are masquerading as news. As individuals and as members of SPJ, our job is  to search for truth and to offer substantive analysis, when necessary, without being paternalistic, preachy or righteous.
The Bible and the U.S. Constitution and its First Amendment converge in the 2017 goal of journalists: "You shall know the truth and the truth shall make you free." (John 8:32)
Whatever side we are on in the political spectrum, we can get  our marching orders for 2017 from fellow writer and philosopher Ralph Waldo Emerson: "This time, like all times, is a very good one, if we but know what to do with it."
Thanks for spending some of your time with SPJ.
–Kathleen Burns
Media Competitions and  Deadlines
Sigma Delta Chi Awards
Take a look at your best efforts in 2016 and submit them to the annual SPJ competition by Feb. 13.  Submissions are welcome from any U.S. or international media outlet.  Many categories have multiple divisions, based on market size or circulation.  The awards date back to 1932, when the Society honored six individuals for contributions to journalism.  The current program began in 1939 as Distinguished Service Awards, and later became known as the Sigma Delta Chi Awards.  Visit the SDX webpage to find specific rules, entry requirements, categories and other helpful hints for award applicants.  You can also look at winners online from previous competitions and you can submit your entries online. Winners will be notified in April and honored at a banquet at the National Press Club in June 2017. For any questions, contact Jessica Bennett, jbennett@hq.spj.org.
University of Michigan Awards for Journalists
Livingston Awards: Recognizing Young Journalists
Candidates must be 34 years old or younger and compete for $10,000 in prizes in three categories: local, national and international reporting.  Print, broadcast or online work is eligible. Entry work must appear in a U.S.-controlled media.  DEADLINE is Feb. 1, 2017. Questions: livawards@umich.edu or 734-998-7575.
Knight-Wallace Fellowships
They are seeking candidates  who are "experienced, highly-motivated professionals from all facets of journalism, who are ready to recharge their careers and life goals, through our unique, eight-month sabbatical away from daily deadlines." ENTRY DEADLINE: Feb. 1, 2017 Questions: kwfellow@umich.edu or 734-998-7666.
Dateline Awards from SPJ DC Chapter
The chapter's annual Dateline Awards competition kicks off in January with details on our website. The contest information can be found here: http://spjdc.org/dateline-awards-an-introduction/  and here: http://spjdc.org/dateline-awards-guidelines-and-rules/
This year, online payment for entries is available.
Hall of Fame Entries Sought
Each year, the chapter board nominates candidates who are among "the best and the brightest" for their journalistic achievements in Washington, D.C.  They must have been practicing their craft here for at least 25 years.  DEADLINE for submissions is Jan. 17, 2017. Please send your suggestions to Steve Taylor, chairman of the HOF Nominations Committee, at juxta747@gmail.com
SDX-DC Accepting Scholarship Applications
The Sigma Delta Chi Foundation of Washington, D.C. has opened applications for its annual scholarship competition. Area college journalism students currently in their sophomore or junior year are encouraged to apply by Feb. 28. Application materials can be found at SDXDC.org. Contact the committee at scholarship@sdxdc.org with any questions.
Old business carries into the new year as chapter continues discussions on its bylaws and constitution
For the past three years, the DC SPJ chapter has explored various ideas on revising our Bylaws and our Constitution so they reflect various changes in wording, policies, governance and the world around us.
But people's eyes and minds can glaze over when they try to compare the new versions and the old version of such documents. Once the board finalizes any changes, we'll send the draft to our members for their approval, their suggested revisions or their rejection.
You can look at a more detailed comparison at: http://spjdc.org/2017/01/2024/
To view the current bylaws, see: http://spjdc.org/chapter-constitution-bylaws/
The DC Pro Chapter board has been reviewing revisions to the chapter Bylaws and Constitution proposed by the Bylaws Committee last fall. The proposals range from simple changes in wording, to updates to policies, governance and business methods that reflect changes in the world around us.
Before the final set of proposed changes goes before the membership for vote, the board will be preparing a draft that clearly indicates the proposed changes vs. the original wording.
As an SPJ DC Chapter member, we value your comments on any additions or deletions to this draft.  Send your comments to Kathryn Foxhall, the chapter's recording secretary, at kfoxhall@verizon.net
In the meantime, here is a quick look at the major proposed changes:
Change the name of the current position of Vice President to President-Elect. This shift would reflect the system already used by the national SPJ board, where you have a person getting hands-on experience for a year and then they are ready to step into the position of president.  In the past, some candidates nominated for president have had no previous experience serving on the board, and this makes it a difficult move since they are new to all the operations and procedures.
Change the title of Corresponding Secretary to Membership Secretary.  Over time, the need for this position has evaporated.  A major factor is email as a major tool of communication.  The chapter president generally handles correspondence with outside organizations, and copies board members.
The Recording Secretary remains in charge of taking the minutes and distributing them, and this change will not add any additional requirements for that job.  But we definitely need a designated slot on the board for someone to handle the ongoing needs for membership.  That includes timely attention to annual renewals, so current members don't fall by the wayside.  And close work with our many national SPJ members who often are not aware of the need to sign up for the local DC Chapter as well.
Set Term Limits for all board members for 3 consecutive terms in the same position.  This change has been recommended by the chapter's Audit Committee for 2 years in a row.  The Committee emphasized that this recommendation was not because of any poor performance by any current office holder. The Instead, they said it reflected general guidelines for Best Practices and policies for board governance. Audit Committee members had initial recommended this requirement for the position of treasurer, because of legal and fiduciary rules tied to positions where one handles money.  But the Bylaws Committee extended the requirement to all positions so that this does not become a finger pointing exercise.  It is simply a means to also insure an infusion of new ideas and new people on the chapter board. Any person who held one position for 3 years was free to run again for the board, in another position.
All candidates for board positions in the annual elections should be notified within 5 days of the results being formalized as to whether they won or not.  This was recommended because there was a lengthy period after a recent election where no was designated to tell the winning and losing candidates the results.  This is to prevent that from happening again in the future.
Official notifications to chapter members (for elections, for amendments, for Bylaws changes etc.) can be sent via regular mail or via email.  This step is to catch up with modern times.  Like most volunteer-based organizations, we limit things that must go via U.S. mail to members since it can include time for Xeroxing materials, putting them in an envelope, and going to the post office.  There is a cost to this in time and money, versus the speed and efficiency of email, wherever possible.
Those named to fill board vacancies as they occur will complete the unexpired term of the board member they replaced. Those board members will serve until the next installation of officers and directors held each year in June.
The chapter's Recording Secretary shall be the custodian of all written and digital records.  This also reflects the modernization of communication processes.  Many records are no longer kept solely on paper. All records are to be kept in one place, with one person in charge of them.
The executive board shall consist of six directors and five officers who meet nine times a year to formulate plans and procedures.  The unelected Immediate Past President serves on the board but is not considered part of the executive board.
To be eligible to vote in chapter elections or to run for the chapter board, one must be a "member in good standing."  That is defined as someone payment of whose dues is current.  This was added as a point of clarification.
–Kathleen Burns, SPJ DC Chapter president
Chapter membership renewal effort focuses on government transparency
Have you renewed your SPJ D.C. Pro membership for 2017?
If you have, you're already a voice in the chapter's campaign to have the White House ease off the tightening control government has placed on access to information sought by journalists as they do their jobs of informing the public about how the government is performing.
If you haven't renewed, the chapter encourages you to renew today, because our efforts are stronger when we're all in it together.
A recent membership renewal mailing from the DC Chapter emphasized efforts by national SPJ, joined by other media groups, to increase awareness of government tightening of media access to government information and the employees who can help explain it to journalists. The chapter has adopted "Censorship by PIO" – the government effort to control access to staff employees by making reporters go through public information officers – as the target of its signature freedom of information push.
That is just one aspect of chapter membership, however. Networking, professional development, journalism scholarship support and opportunities to serve on the chapter board or committees are also included.
Members who had let their DC Chapter membership lapse in the past year, along with former chapter members who hadn't renewed national or chapter membership over the past several years got letters in the mail in early December. Were you one of those? Be sure to respond with the self-addressed, stamped envelope enclosed. Didn't get a letter, but suspect you have neglected to take care of renewal? Use this link to find the option for renewal or joining you prefer: https://www.spj.org/join.asp
D.C. Chapter dues are $25 per year. Membership in national SPJ is required for chapter membership. National membership is $75 per year, but if you pay for three years at once, the total is $190, a savings of 17% off the yearly price. As it may not be clear how to renew the chapter membership when renewing national dues, don't hesitate to contact Director of Membership Linda Hall by email: lindah@hq.spj.org
If you decide to print out the membership renewal form to fill out and mail back with a check for the local dues, the chapter's mailing address is:
SPJ D.C. Pro Chapter
PO Box 19555
Washington, D.C. 20036
Are you reading this, and thinking you'd like to support the missions and vision of SPJ, but you're not a journalist and may not qualify for membership? Send an email to Linda Hall (lindah@hq.spj.org) to find out about becoming an Associate. You won't be a full member, but you can still add your voice.
Chapter Recording Secretary Kathryn Foxhall is handling responses to the membership renewal mailing, which included a survey for those who decided not to renew. If you'd like to offer any input or comments, you can email her at:  kfoxhall@verizon.net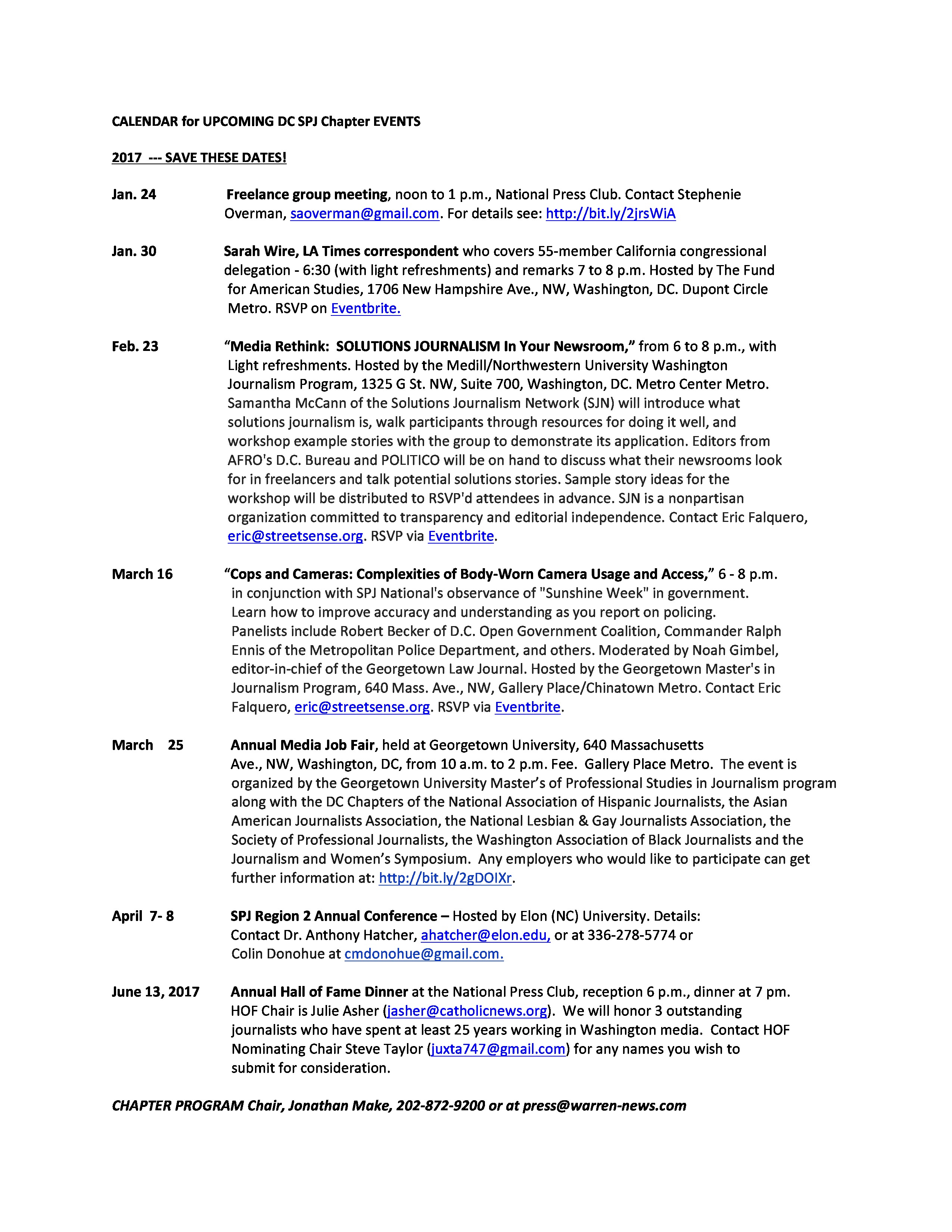 SPJ-DC leadership
President: Kathy Burns
Vice President & Program Chair: Jonathan Make
Treasurer: Amy Fickling
Recording Secretary: Kathryn Foxhall
Immediate Past President: Julie Asher
Directors
Ex-Officio
Sue Kopen Katcef – SPJ Vice President for Campus Chapter Affairs
Andrew Schotz – SPJ Region 2 Director
Other Officials of Note
Stephenie Overman – Freelance group chair
Joe Starrs – Local student liaison committee chair
Steve Taylor – HOF nominations committee chair
This information can also be found here: http://spjdc.org/board-of-directors/

Deadline for submitting copy for next newsletter: February 10
Email copy to Newsletter Editor, Elizabeth Grisham at: egrishamspj@gmail.com
Our mailing address:
Society of Professional Journalists DC Chapter
P.O. Box 19555
Washington, DC 20036
USA